In today's times, for a blogger or website owner, their websites can literally be just as valuable as property and real estate. Therefore, keeping it safe should also be the responsibility of your own.
As you are reading this article, you probably have a WordPress website or Blog. But websites are not easy to manage you have to take proper care of your blog design, content, optimization for search engines as well as need to protect it from Spammer and hacker.
Nowadays if your WordPress security is not tight then you are inadvertently playing with fire. Your years of hard works can turn into dust in the blink of an eye with one security attack.
According to a recent case study, An average website is attacked 44 times every day.
Although WordPress is developed on a secure framework so you can take precaution to strengthen your website security by adding WordPress security plugins.
Here we have listed some of the best security Plugins for WordPress to strengthen your website security.
Why Use a WordPress Security Plugin?
According to a recent wordfence study, There are almost 17 million websites get infected from Malware at any given time each week.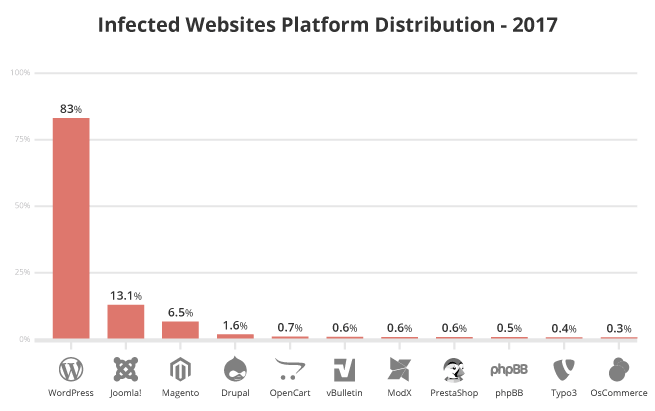 However ensuring the security of your WordPress website can be a little tricky, especially if you are not a developer or coder. But To avoid being hacked, you can use WordPress security plugins.
A Good WordPress security plugins can protect your blog & website from Malware, brute force attacks, and hacking attempts.
In this article, we will compare 9 different FREE WordPress security plugins, so that you can easily decide which one is the best security plugins for WordPress site.
[optin-monster-shortcode id="vsdwslcebn7trjv9krbu"]
My Personal Suggestion : Move To Good Hosting
Don't just rely on a security Plugin to secure your website from hackers. There are several other things you should consider to tighten your website security.
One of the main factors of a website get being hacked is also a bad hosting.
Yes believe it or not but it's true…
Do you know when I started my first Blog, I Purchased Hostgator Hosting….
And as a result, my Cpanel also got hacked 2 times in a month.
Which was the most disappointing moments in my Blogging Journey.
All these things happened just because I selected a bad hosting provider.
In the last 2 year, I have tried more than 8 hosting providers who are popular in all over the world.
But most of the hosting provider disappointed me…
One of the best Hosting I have ever used is SiteGround.
Currently, My Four website is running on Siteground Hosting.
I am finally on siteground, and in the last 9 months, I have not faced a single issue with Siteground.
Moreover, you can also check out my Siteground Review for detailed information.
Once your website is hosted on a good hosting, there is only 25% chance of your website getting hacked and you can decrease it to O% by using a good WordPress security plugin.
Best Security Plugins For WordPress website
| | | |
| --- | --- | --- |
| SECURITY PLUGIN | ACTIVE INSTALLS | RATING |
| Wordfence | 2+million | 4.8/5 |
| All In One WP Security & Firewall | 600,000+ | 4.5/5 |
| iThemes Security | 800,000+ | 4.8/5 |
| Sucuri Security | 500,000+ | 4.9/5 |
| VaultPress | 80,000+ | 4.4/5 |
| Jetpack | 5+ million | 4.2/5 |
| Login Lockdown | 100,000+ | 4/5 |
| WP Antivirus Site Protection | 4,000+ | 4/5 |
| BulletProof Security | 90,000+ | 4.5/5 |
1) Wordfence (FREE + Premium)
Wordfence is one of the most popular Free WordPress security plugins and for a good reason.
With over 18 million downloads and 4.5 ratings out of 5, Wordfence is king of free WordPress security plugins.
The free version of Wordfence comes with a powerful malware scanner, exploit detection, and threat assessment features.
The plugin will automatically scan your website time to time for common threats, Moreover, you can manually run a full scan to detect malware and threats.
You will be alerted if any type of security breach found on your website with instructions to fix them.
Wordfenece monitors brute force attacks and locks out the IP address after too many login attempts.
As well as It also allows you to set Two-factor authentication in Wp-admin area to increase your security level.
Wordfence scanning system is capable of recognizing identifying and eliminating more than 44,000 types of malware.
Key Features
The free version is powerful enough for small and medium-sized websites.
Wordfence firewall protects from all the hacking attempts on your website.
IPv6 Compatible
The comment spam feature removes the need of a separate comment spam plugin.
With Country blocking feature, you can stop attacks from a particular region.
Read also – How to Get Google Adsense Approval With A New Blog
2) All In One WP Security & Firewall (FREE)
All in one WP security and firewall is a powerful security plugin For WordPress which takes your website security to the next level.
All in one wp security provides an easy to use interface with decent customer support without purchasing premium Plugin.
The best thing about this plugin is their all features are categorized in 2 different group like intermediate, or advanced, which makes easy for anyone to enable a group of feature without breaking their site.
It comes with some pro features like login lockdown which
prevent brute force attacks, file integrity monitoring, IP filtering, scan for suspicious patterns of database injection, user account monitoring and many more.
It shows you security strength meter right to your dashboard. Which informs you about how secure your website is based on their security scoring system. It is one of the powerful WordPress-security-and-firewall-plugin.
Key Features
This plugin has a blacklist feature where you can set certain requirements to block a user.
Most important you can take the backup of .htaccess and .wp-config files as well as there is an also option available to restore it.
Security strength meter
The plugin is totally free.
It monitors the account activity of all users.
3) iThemes Security (FREE + Premium)
iTheme security is a well known name in security industry. It was formerly known as Better WP Security.
It prevents you from Brute force attack by limiting the number of login attempts.
You can opt from email notification update for any recent file updates so you know whether your site has been hacked.
Although some basic features are included in the Free version of Plugin. But we recommend you to move to Pro version of the plugin which will cost you $80 for one year.
iThemes Security Pro moves the default WordPress login page and enforces super-strong passwords, as well as blocks users if they found too many login attempts in one time.
Key Features
This plugin offers a file change detection notification which informs the webmaster if any file is deleted or any new file is uploaded.
By using Google reCAPTCHA integration you can increase your website security level.
2-factor authentication gives an extra layer of security to your WordPress dashboard.
Notify you if any outdated theme and Plugins found on your website as well as it also notifies you when any critical issues found on your blog which needs to be fixed.
It monitors the account activity of all users
4) Sucuri Security (FREE + Premium)
Sucuri is the industry leader in the wordpress security industry. It is a complete WordPress website security solution which protects your site from Malware, brute force attacks, and other hacking attempts.
They are offering a free basic version of Sucuri which helps you in scanning your site for common threats and harden WordPress security.
But if you are really concerned about your WordPress security, then you should get their paid plan. Which comes with Best WordPress firewall. Their advanced firewall will protect your site from brute force and malicious attacks from accessing WordPress.
Sucuri firewall stops bad traffic even before it reaches your server.
It incorporates various blacklist engine to protect your site which includes Google Safe Browsing, McAfee Site Advisor Norton, Sucuri Labs, and more.
Because of this feature, It reduces your server load time and improves your site performance as well as speed.
Moreover, they also offer cleaning your site if anytime it gets affected from malware.
Key Features
They provide multips variation of SSL certificate without any additional costs.
Their customer service support is excellent they provide instant chat as well as email service.
You will receive an instant notification on email if anything goes wrong with your site.
their antivirus package monitor your site every four hours for finding potential vulnerabilities and malware
2-factor authentication gives an extra layer of security to your WordPress dashboard.
It keeps tracking of all the activities take place on your site which includes file changes, last login, failed login attempts, and more…
Don't Miss – How To Do Keyword Research and Keyword Analysis For SEO
5) VaultPress (FREE + Premium)
The best precaution you can take against any sort of security threat is to have a complete up to date backup.
Vaultpress is reliable, secure and super useful security plugin, which makes it best-dedicated website backup service around.
As I already mentioned no website is completely secure. No matter how much efforts you put in protecting your website from attackers, breaches can still happen.
So, It goods to have a complete backup of your sites. So, in case if anything goes wrong. You can restore your backup and save your years of hard works.
And I have seen lots of webmasters doing this big mistake – don't fall into this trap yourself! You should take daily or weekly backup of your site.
Vaultpress creates scheduled or real-time backups that are stored safely off-site. If anything goes wrong, these backups can be restored in a minute depending upon file size.
Key Features
Automated backups stored in their offsite digital vault.
Their customer service support is excellent they provide instant chat as well as email service.
You can use their Transfer or duplicate option to migrate your site to a different host easily.

Easily Fix detected viruses, malware, and other dangerous threats with a single click.
Protect your site from spammers by automatically blocking them.
6) Jetpack (FREE and Premium from $99 a year)
Most of the people who are using wordpress they may be familiar with the Jetpack Plugin not just because the plugin comes with so many feature as well as it is also developed by the people behind WordPress.com.
Jetpack is filled with different modules to strengthen security, social media and spam protection.
If you use jetpack free version you have to enable Protect module to which guards you against brute force attacks.
If you can spend $99/year then you can jetpack premium which comes with some premium features like daily malware scanning, scheduled off-site website backups, and automated website restores.
Key Features
The free version of jetpack provides decent security for a small business or site. You can upgrade to the reasonable pricing plan to get additional features and full support.
Their customer service support is excellent they provide instant chat as well as email service.
You can also monitor your site downtime.
Jetpack eliminates the need for some other plugins like Sitemap plugin, social media, site customization, and optimization.
7) Login Lockdown (FREE)
Hackers use different techniques to hack a site. One of the common technique and attacks are "Brute Force Attacks"
"Brute Force attacks" is a technique where hackers try to login into your WordPress dashboard by guessing your password over and over again.
This plugin locks the I.P within 5 minutes if too many failed login attempt found on your websites. it will block access of that I.P. for next one hour.
But I will recommend you to use those security plugins which offers more options along with limit login option like sucuri and Itheme.
Key Features
Save your sites from Brute force attacks.
Lockout any IP block after 3 failed login attempts within 5 minutes.
You can also use their other features which will lock those IP who enter a username that doesn't exist.
You can hide the error message and not give any helpful hints to your attackers.
Don't Miss: 13 Best Facebook Group For Bloggers You Must Join
8) WP Antivirus Site Protection
WP antivirus site protection is a powerful WordPress security auditing, monitoring, and firewall plugin.
It offers security scanning feature to find out vulnerabilities in web applications.
Wp antivirus scans your all WordPress installation to find out malware, spyware, worms, hidden links, rootkits, backdoors, adware, Trojan horses, fraud tools and if any types of the issue found on your sites it suggests measures to improve the security.
Key Features
User account security
Use a login security
your WordPress database security
your file system security particularly
file and directory permissions
blacklist functionality
an assortment of firewall
protection mechanisms.
9) BulletProof Security
Bulletproof is one of the best Free WordPress security plugins which takes care of various things on your website.
It's one-click setup wizard gives easy to run the plugin without any manual setup or configuration.
The admin panel also includes links to extensive guide which will help you in understanding how the scans and security settings work.
It limits failed login attempts and blocks security scanners, Ip blocking, Fake traffic, and code scanners.
Bulletproof is the best security plugin for WordPress if you are in a tight budget.
It cost a one-time fee of $69.95, which you can install it on unlimited websites.
Key Features
Login security and monitoring.
Database backups and restoring.
MScan Malware Scanner.
Anti-spam and anti-hacking tools.
A security log.
Hidden plugin folders.
Maintenance mode.
A full setup wizard.
Conclusion :
Your website security is your own responsibility, you have to take proper care of your website if you want to keep it safe from attackers, spammers, and Hackers.
I have personally have used different WordPress security solution, and I found that Sucuri is the Best Security Plugins For WordPress website.
But in case If you don't want to invest in a security plugin then Go for Wordfence Free Version.
We hope this article helped you in finding the Best Security Plugins For WordPress website.
More awesome content:
Over To You:
Now I want to know from you guys about which WordPress security Plugin You use?
If you find this post helpful, Then do a small favor for me, Just Pin this Picture on Pinterest