From Past two and a half year, I was that guy who was changing almost 4-5 themes every week.
I know you are laughing at me, but it is true..
Because I was never fully satisfied with the design or features any theme was providing..
But in November 2018, I came to know about GeneratePress theme through a Facebook group where it was rated as #1 theme for WordPress by many bloggers.
So I downloaded a free version of generatpress from their official website which was quite good but nothing special.
Then I decided to go with their premium version which just cost $49 for a year, which I believe is definitely very cheap as compared to other popular themes like Genesis which cost you around $100-$200.
Now, as i am continuously using it from past more than 6 months on my all blog and that's why I decided to share my experience with Genratepress in this Generatpress Review.
So, Let's get started..
GeneratePress Review:
a little introduction
Generatepress is a multipurpose WordPress theme created by Tom Usborne who's a popular WordPress theme & plugin developer from Canada.
Initially, he created this theme to use as a base for developing themes for his web design clients, but after releasing this theme for free of cost in the WordPress repository, it quickly grew its popularity.
So, Tom decided to develop the premium addon plugin to extend the feature of this free WordPress theme.
At the time when I am writing this Generatpress theme review, Generate press is active on 120,000 websites with more than 2700 positive reviews and 5-star ratings from its users.
Today, Tom is working on Generatpress theme Full-time and continuously developing new features and providing quick support. Yes, most importantly Generate press support is amazing, I will talk about it later in this generate press theme review.
Why you should Switch To Generatrpress Premium Theme Today?
Here are some of the amazing features & functionalities given in Generatpress premium which makes it stand out from the other themes to become one of the top-rated WordPress themes.
Latest Update:
Guys i am literally amazed with the Generatepress theme support.
I have never seen such kind of support from any WordPress Theme provider. Even Genesis, MyThemeshop or Elegant themes are not providing this kind of support.
I have contacted them several times for little things and they have always helped me out.
As you can see in the above screenshot I contacted them multiple times for adding page hero, changing navigation width, changing blog-style, etc.
So, whenever you get stuck, you can contact them and they will help you out.
1. GeneratePress Made My Website Load ~68% Faster
As you all know from 2018, Website loading speed is a very important ranking factor for Google search engine.
Not just for the sake of Google, but the real people also prefer to visit the fast loading site. In a research, it was found that approx 56% of people leave a site if it takes over 3 seconds to load.
Although we also know that website loading speed not only depends upon the theme, but hosting also plays a major role in loading time. As we are using one of the world fastest hosting "siteground" for all of our site with Gneratepress to get the best possible result.
All thanks to generatepress which always has a focus on good performance and
clean code.
You'll be surprised to know that the entire theme size is less than 30Kb, which is as small as you'll ever find for a WordPress free or premium theme.
Even Most optimized WordPress themes still have the size of 250+ KB, and some poorly coded free themes can even exceed 1 MB.
The best part of the Generatepress theme is it has no code dependencies, that helps you in avoiding the render-blocking error that Google Pagespeed Insights often mentions.
Put all these all together, you get a jet-like loading theme.
You must be thinking how fast?
Here we have tested my website loading speed before and after using Generatepress Theme.
Before using Generatepress (I was using a free Themeshop Theme)
After Installing Generatpress Premimum
So, I can probably say that GeneratePress is one of the sleekest and fastest-loading WordPress themes available at that moment.
And that's the reason why I shifted my all blog to Generatepress Premium theme because for me speed matters a lot.
I want my site visitor to give the best possible experience and also i want that my site should load fast so that Google can rank my site on a higher position.
Also Read:15 Reasons Why You Should NEVER USE Blogspot
---
2. You can Change Everything About Your Theme From The WordPress Customizer
Beyond website performance, Customization is another main where Generatepress has really focus on.
Gneratepress use the regular WordPress customizer which is very convenient for anyone because it allows you to see all the changes you are making with your WordPress theme in real-time.
If you are using Generatepress Free version, then you will get decent option which a basic free theme should have.
But once you start using their premium version you will actually fall in love with their customization functionalities as you can easily customize pretty much everything about your website.
For example:- It gives you the functionality to change the container width of the page, padding, spacing, etc… for every single element!
Change Color of every single element on your blog.
They have a color module which allows you to change the color of almost all the elements of the theme visually like Body elements color, Header color, Text color, Heading color, Navigation color, link color, background color, etc.
Typography
From the typography area, you can customize the font style, family, and all the textual aspects of your site.
In the past when I was using other themes, I had to add additional custom CSS to change the font on my blog.
But with generatepress everything can be done through the theme customization option easily.
Control How Your Blog Page Looks
In generatepress you also get a dedicated Blog Customization section which lets you configure settings that apply to just your blog posts:
For example: This allows you to easily have a full width featured image on your front blog page, change excerpt length and settings, add read more button, etc.
Woocommerce:
If you are using woocommerce on your site then from the woocommerce section you can customize some of the visual aspects.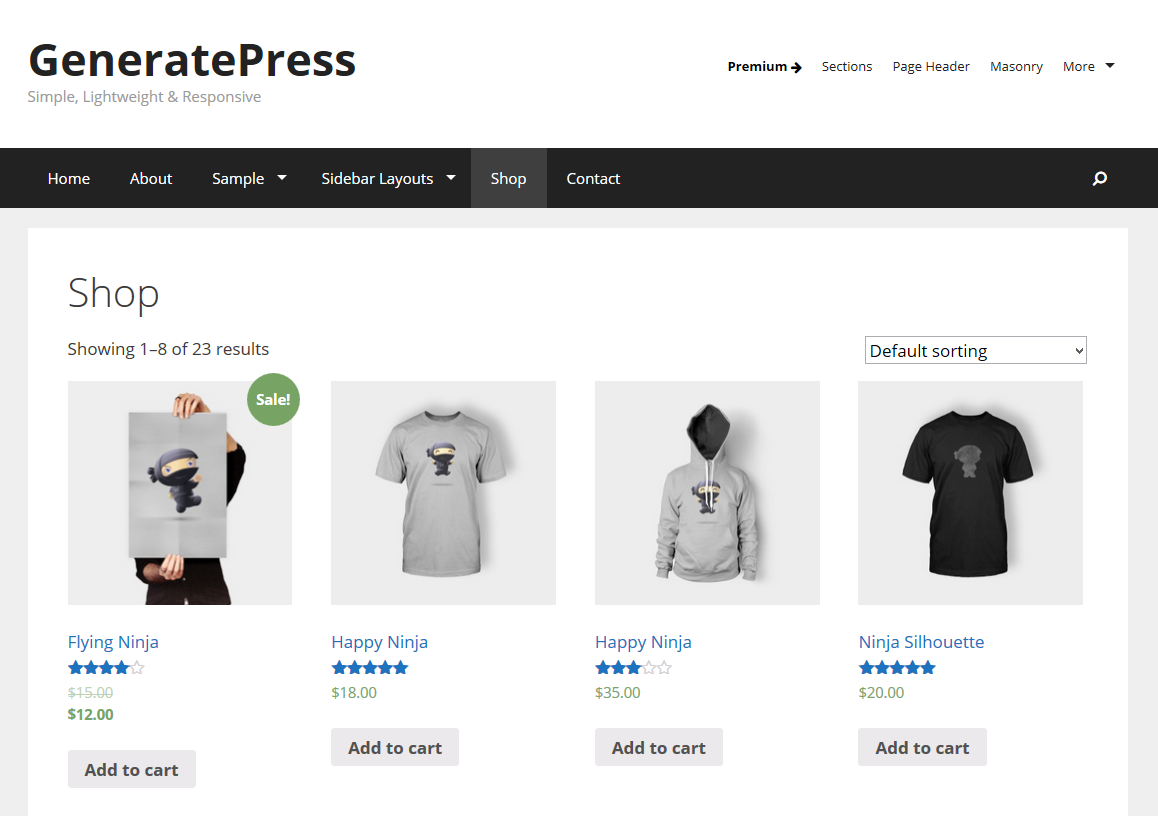 ---
Read also – Social Snap Plugin Review: My Personal Experience With This Social Share Plugin
3. It's Super Responsive, and Will Give Your Website a Very Lovely Look on Mobile
It's probably now surprising that mobile internet usage has been increasing quickly over the last few years.
According to the report more than 55% of search traffic are coming from Mobile.
So, in 2019 it's very important that your website should be mobile responsive in order to get traffic from mobile.
In fact, Recently search engine journal says in a blog that now Google will not rank those websites which is not Mobile friendly.
To make your website mobile responsive it is always recommended to use a responsive WordPress theme.
Unfortunately, most of the WordPress theme is marketing their theme as "mobile responsive", but only a few of them lives up to their promise.
Again Thanks to Tom Usborne who has done an excellent job at improving the theme's responsiveness, and it looks flawless to mobile readers.
Most importantly, they have also given functionality to customize margins and padding for mobile readers in case it is needed.
I will also recommend you to check how your current theme appears on mobile device, is it responsive or not?
In case not, you should definitely switch to Generatepress today.
---
4. Page-Level Settings Give You Detailed Control Over Each Piece Of Content
What I have seen in the past with most of the themes that each post & page will use the same settings for most of the part.
But it is not same in the case of Generate press theme, It gives you a new layout meta Box for every single post & page
For Example: On each page and post i can change the sidebar layout and the footer widgets.
Example No 2: On each and every post I can disable certain elements like I can disable header for a specific blog post, I can disable navigation menu or even I can disable post featured image, title or anything.
---
5. You Only Use The Features That You Want Because It's All Modular
Almost all other WordPress themes are one-size-fits-all, that means you'll have to use all the features given within them no matter what.
Now for someone who wants to use all the features then it is completely fine.
But tell me one thing, when was the last time when you used all the features in your theme?
I don't think you have ever used all features because every feature given with the theme is not useful for all types of blog/websites.
That means your website taking a performance hit for features you aren't even using.
Generatepress can solve this problem with its modular approach. You can manually turn on or off every single feature whenever you want.
Also Read: 25+ High Paying Google AdSense Alternatives In 2019
6. GeneratePress Is Fully Compatible With All Your Favorite Plugins Inbuilt Schema for Good SEO
As I have used more than 250 themes in the past couple of years on different blogs, sometimes I found compatibility related issues with the most essential plugins.
Some themes show some kind of error or act strangely upon installing on my blog.
But with Generatepress, I never have any compatibility issue with any plugins.
I have tested all the popular and essential plugin with Generatepress and each and every plugin is working fine.
WooCommerce
Yoast SEO
W3 Total cache
Akismet
Wp rocket
Thrive theme Plugins
WPML
Wordfence
Etc.
---
7. The Hooks Add-on Made GeneratePress even Easier to Customize
If you understand PHP, HTML, and CSS then you'll definitely love this developer-friendly Generate press theme.
Because it has hooks add-on that allows you to easily add any code in any area of your theme.
If you don't know have any idea about Hooks, then Hooks are a very powerful feature which lets a user insert code or content at specific locations on your site.
For Example: If you want to insert Google google analytics code to your site then you don't need to go to website coding area, you can simply insert it into the wp-head hook
Example 2: Recently I wanted to add something like this design to every page of my site, I simply added some code in before footer hook and it was done.
That's why I just love Generatepress because it made my life so easy.
---
8. Comes with Lots of Beautiful Pre-Made Demo Site Library
In 2018, Generatepress launched a new site library for the premium themes users.
The site library is a collection of more than 25 Pre-built beautifully designed demo sites that help the users in building or designing their site quicker.
You can access the site library directly from your dashboard by going to Appearance → GeneratePress and clicking the Site Library tab.
Then whenever you click on a demo design, you'll see more details about that demo and an option to Get Started with the import process.
The best part is you don't have to pay any extra bucks for all these themes, they are included with the Generatepress premium plugin.
Must-read Guide – 20 Ways to Speed Up Your Website and Improve Conversion
---
9. Excellent support
I must say Generatepress has amazing support for their customers.
They even have support for free theme users as well as excellent support for Premium users.
As a premium user whenever you face any problem you can simply contact them over the email and they'll reply to you in just 1-2 hours.
Apart from email support they do have forum support which is amazing and most of the time i prefer to take forum supports.
As you can see in the given below screenshot, I contacted them many times and each and every time they have solved my problem.
I have even used many other popular premium themes in the past like Genesis and all, but never got this type of support from others.
---
10. GeneratePress can be used on Unlimited Sites
Most of the popular themes give you access to use one license on only one site or some give you access for three-five sites.
In that situation, you may have to pay for a single theme multiple times in order to use it on multiple sites.
It sucks right?
But thank god there is nothing like this with the Gneratepress theme because for a one-time payment it gives you access to install it on unlimited sites.
As I am running multiple sites, I am very happy with this generate press decision.
As mentioned earlier, The core GeneratePress theme is available for free of cost.
But the free version is a very basic theme like any other free theme.
So, if you are serious about making your website fast and beautiful then I strongly recommend you to go for the premium version that includes add-ons to enhance its power.
Gneratepress is actually the cheapest WordPress theme compared to its features which you can get at just $49.95 for use on unlimited site.
Here is what you get.
All 14 premium add-ons
Access to the support forum.
One year of support and updates
A 40% discount if you want to continue support and updates past the first year
As you can see the theme is very affordable considering to the amazing features you'll get. Another plus point is you can use it on unlimited sites.
Additionally, you also get the 30-days-money-back guarantee, so if you are not happy with the theme then you'll easily get a refund.
Read also – 20 Time-Saving Blogging Tools You Need To Use
Final Thoughts On The GeneratePress Theme review
Gneratepress is an excellent theme if you are looking for something which should be flexible & light-weight.
Generatepress customization option gives you full flexibility to turn the website into any look according to your need.
Additionally, It is one of the fastest loading WordPress themes, if you combine it with fast loading hosting then I don't think you'll face any problem in making your site load under 1 second.
So, if you are looking for the best performance theme, then purchasing generate press can be a good decision for you.
I hope you will find my Generatepress review Helpful, Feel free to drop a comment about any question regarding Gneratepress as well as make sure to share your experience with Generatepress in the comment section Below…
Generatepress Review
Gneratepress is an excellent theme if you are looking for something which should be flexible & light-weight.