Are you struggling to get Adsense approval?
Then Just relax, I am here to help you out…
I am promising you that after reading this "Adsense Approval ultimate guide" you are going to get your Adsense account approved in the next few days for sure.
I applied for the AdSense account in 2016 for the first time, As I had no idea about Google Adsense approval requirement, So my Adsense application got rejected twice but fortunately got approved in the third time.
From 2016-2019 I got more than 10 Adsense approval for my niche site, for a few of my client site as well as my YouTube channel.
I swear I never ever faced any rejection except the first time, So I feel like I can offer some solid advice on How to get Google Adsense approval for a new blog in just 3 days.
Note: If you are looking for how to get Google Adsense approval in 1 minute, then my friend you are at the wrong place because Google takes its own time you have to keep patience for at least 3-5 days.
So are you ready to get your AdSense account approved? Let's dive into the tutorial…
How to get Google Adsense approval within a few days?
Google Adsense is one of the most popular networks that offer ad publishing at Pay Per Click basis.
When it comes to making money from a website, AdSense is probably the first choice for everyone that gives you the opportunity to make huge amount of money by monetizing your content.
There are many bloggers out there who are making a complete living from their blogs and Google AdSense.
So, as being a leader in highest-paying advertisement programs, Adsense has certain criteria that they follow to approve or disapprove an application.
Below I have shared all the things that Google requires to approve an Adsense account. Once you complete all the steps given below, then apply for Adsense approval and there is 110% chance that you'll get Adsense approval.
Read also – How to start a Profitable Blog to make passive income online
11 Simple Steps To Get Your AdSense Approved The Right Way
One important thing you have to realize that it's a manual review, not an automatic one which means an actual employee working for Google is going to manually check your site.
It's not a robot who'll just crawl your site to check everything outline in their set requirement list.
That means… Some really smart human beings who work for Google is especially appointed for checking your site, clicking around, reading your article, analyzing source code and then decide that is it a high-quality website that provides value to users or not…
So, to pass the manual review process, your site just has to be a High-quality site…
Now you must be wondering how do I make sure that my site is a high- quality site.
Just follow all the basic requirements given below, once your site meets all the requirements you are good to go…
So are you ready?
1. Use Top Level Domain
A top-level domain like .com, .org, .in or.net can potentially increase your chances of getting approved by Google.
But in case if you are thinking that you'll get Google Adsense approval by using subdomains like domain.WordPress.com OR domain.tumblr.com.
Then stop dreaming about getting approved…It is never going to happen.
Go and get your domain from a registrar like NameCheap. They are providing.com domain at a very cheap rate. Make sure to Choose a brandable domain name that matches your Blog content.
Example – I publish content related to how you can grow your blog and develop it into a profitable blog. So, I choose "Blogging Nova" as my domain name which perfectly fits my content.
You may check out How to Choose a Domain Name (10 Tips & Recommendations) written by Nick Schäferhoff.
Note For Blogspot user: Google has made changes to its policy in the last few years. If you are running a Blogspot blog and using a domain like Yourblogname.blogspot.com then also you have high chances of getting your Adsense account approved easily.
However, one thing you should keep in mind that you will be not able to use that Adsense account on any other domain like yourblogname.com, you have to submit a request to upgrade your AdSense account.
2. Publish At least 15-20 High-Quality Content
Once you have a good domain name, the next thing you have to do is Publish some high-quality content.
Writing high-quality content is important you can't ignore it at any cost, When I say important I mean it.
Google always give priority to Good content which adds value for the Google users. And As I mentioned earlier your application will be manually reviewed by a human being, so you have to impress them with your content in order to get Google Adsense Approval.
What do I mean by high-quality content?
Write original Proper content.
First of all, it should not be a copy paste article. Most of the newbies make this mistake very often, they copy the articles of another blog and paste it on their blog.
If you are doing the same then trust me you are never ever going to get Adsense approval for your site.
So take your time write original and unique content with proper headings and bullet lists which is free from grammar and spelling mistakes & at least 1,000 words long and most importantly it is useful and informative.
Next question which most of the bloggers often ask "what should be the minimum number of posts before applying for Google Adsense?"
Frankly speaking, there is not any rule or criteria set by Google that you should have at least 10,20 or 50 content on your blog in order to get your Adsense account approved.
In my blogging journey, I have seen a few bloggers whose Adsense application got rejected even there were more than 200 posts published on their blog.
While I got Adsense approval for one of my niche site when I had just 7 posts on my blog. Yeah, just seven…
However, as per my experience, I will always recommend you to publish at least 20 good quality content before applying for Google Adsense.
[optin-monster-shortcode id="vsdwslcebn7trjv9krbu"]
3. Improve Your Blog Design & Layout
When you first visit a site what's the first thing you look for?
Obviously, it's blog design.
Your Blog design and layout gives the first impression to your readers to engage them with your blog.
That's why Google also give priority to a blog which is well- designed, which is using a responsive theme, which is loading fast, which is Adsense ad-friendly, etc.
As far as I have seen most of the people's application get rejected because they are using any random Free Theme which has a very creep boring design as well as theme is not responsive and fast loading.
Although it isn't compulsory for AdSense but I always recommend everyone to use a premium WordPress theme.
Don't kill your chances of getting approved by AdSense just for saving your $40-$50.
I personally use Genratepress theme on my site which has schema.org structured data (SEO friendly) and lightning fast load times (my site loads under just 2 seconds.)
With the help of this theme, you can give your blog any type of look you want, they have plenty of customization options and most importantly it just cost me $49.95 and I can use this theme on my unlimited website.
You can also check our GeneratePress Review 2019 and get to know that Why All Pro Blogger Use this theme?
4. Have a Clear Navigation Menu
Google often reject Adsense applications of those websites which do not have a clear navigation menu.
What is the navigation menu?
Navigation menu basically allows you to present a site structure to your readers. It helps your readers find information and browse through the different section of your site,
So what you have to do is add all the important pages ad categories of your site in the menu and place that navigation menus close to the headers.
If you are using Generate press theme, then you already have plenty of places to add navigation menu like before headers, after header, center, right of the header, left of the header, etc.
Here is an example of a website having a clear navigation menu.
5. Make sure you have all the necessary page on your site
Some people don't care about Privacy, disclaimer or about us page because they think that it does not make any sense to them.
Unfortunately, Google cares a lot about it and reject the application of those sites which do not have all the necessary pages.
So, now you must be thinking What are the important pages for a site?
1. Privacy Policy page
Privacy policy basically asserts that you are not doing any kind of scan and gives the sense of a serious business.
Privacy policy describes to your readers that what they will get on your blog, what they should do and what they should not. what you want from them and what you give them in returns etc.
Check this step by step guide to Add a Privacy Policy to Your WordPress Website
So, in order to get Google Adsense approval with new blog, the very first thing you need to do is add a Privacy policy page on your site. If you don't have it you cannot get approval simple is that.
2. About Us Page
Like Privacy policy page, you must have About us page in order to get approved by Google Adsense.
An about us page has big importance even if you are not using Adsense. But when it comes to Adsense it is mandatory to have about us page for getting their approval.
About Page basically shows that there is a real person behind this blog content. It describes you and your blog and purpose of running your blog.
This will not only help you establish a strong relationship with your readers but it also makes them trust you.
Helpful resources: How to Write the Perfect About Me Page (With Examples + Printable Graphic!)
3. Disclaimer page
The disclaimer is also an important page for every site.
A Disclaimer page asserts that the content on your website is informational, but your readers should use their own discretion when using the content on your site.
In simple words – you'll be not liable for any damage or harm causes due to your information.
4. Contact Page
What if something published on your site is bothering one of your readers? What if someone has a few queries related to one of your content or product?
It's better to give them an opportunity to reach up to you and tell what they feel about your content and site, what they like and what they don't like.
By adding a contact us page on your site you are telling Google that you care for your readers and customers, they can contact you anytime and you are ready to help them.
Helpful resources: 21 Tips, Tricks & Examples for a Rocking Contact Us Page
One thing you have to always remember that the more you care about improving your readers experience the higher chances will be to get approved by AdSense.
6. Make sure You are 18+
If you are not at least 18 years old then don't apply for Adsense account because Google never approves Adsense account of those peoples who are below 18.
Although I have seen some cases where few peoples who are below 18 still they got Adsense approval but unfortunately most of the times they reject the applications of below 18.
But I also know that there are many young boys & girls (Below 18 years of age) in today's time who want to make their online career at a very young age.
So, first of all, I appreciate your passion for making money online at such a young age.
I'll recommend you guys to create Adsense account with your parent's details and you'll get 100% approval.
Note: Use your parent's details only if they allow you to do so.
7. Remove all ads from other ad networks
If you are using ads from any other ad networks like media.net, info links or any other on your blog then it's time to drop them off.
Although Google allows you to use other ad networks with Adsense, still it is better to remove adds of other ad networks before submitting your application for Adsense approval.
Once your application is approved by the Google Adsense team you are free to use any other ad networks along with them.
8. Make sure to check your content type
The type of content you are currently publishing on your blog matters a lot for Google.
Google has very strict policies against certain types of contents which advocate against any individual, group, or organization.
Here are some common content types that are not accepted by AdSense.
Pornography/Adult content
Pirated content
Hacking or cracking content
Illegal drugs related to content
Or other content which is related to illegal stuff.
Additionally, there are only a few languages which are supported by Adsense, I have attached a screenshot of language supported by Adsense below. Make sure to use only those languages which are mentioned in this list.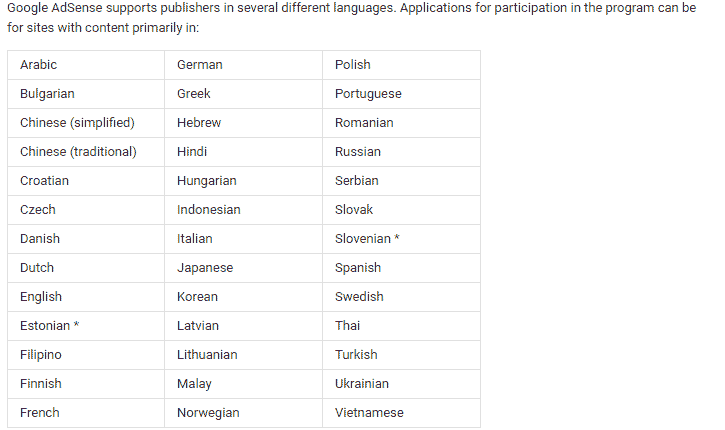 So, in case if you are writing content related to those topics which are not supported by Google, then sorry you can't get Adsense Approval.
9. Connect your site with Google Analytics & Search Console
The more Google knows about your site, the higher chances will be to get approved by AdSense.
By verifying your site with Google search console, you can control and analyze your site's performance.
Make sure your site is indexed on Google before you apply for Adsense. You can easily index your site on Google by submitting your sitemap into Google Search console
Same as by connecting your site with Google Analytics tracking, you can share all your site's traffic and other stats with Google.
This helps them analyze whether your traffic is sufficient and coming from the right sources.
If you are receiving most of your traffic from organic search, direct and social then it means your traffic profile is natural and healthy and you are eligible to get Adsense approval.
10. Use fresh details while applying for Adsense
Have you ever received this type of message after getting rejected from Adsense?
According to Google the information you submitted for a new application already matches an approved Adsense account.
But it's not always the same in every case.
Let me tell you How…
Suppose you submitted an application with your (xyz@gmail.com) Gmail id and given all your personal information and mobile number.
Unfortunately, Google rejected this application…
Now next time maybe a day, a year or 2 years later if you are signing up for a new Adsense account and in case you put the exact same details including exact mobile number.
Then my friend your application is going to reject for the same reason "Your account is associated with another account"
So, the moral of the story is – Always use fresh email id, personal details and most importantly mobile number while signing up for an Adsense account.
FAQ related to Getting Adsense Approval
1. Can I get Adsense approval with blogger?
Yes, you can easily get Adsense approval even with the .blogspot.com domain. Just like any WordPress users you also need to follow all the step mentioned above and you'll definitely get approved by Adsense teams.
---
2. How much traffic required for Adsense approval?
Actually, Adsense has not any minimum traffic thresholds like any other ad networks. Still, if your website is receiving some traffic from good sources then it'll be always easy for you to get Adsense approval fast.
---
3. How long does Adsense approval take?
Once you have successfully submitted your Adsense application and if your website matches all their condition then they usually approve your account within 24-48 hour.
However, in some cases, you may have to wait for a week to get a response from them.
---
4. How to get Google Adsense approval in 1 minute?
Sorry to say but it is never possible to get Adsense approval within 1 minute. You have to must follow their protocol that's designed by Google itself. On average you have to wait for at least 2-4 days in order to get approved by the Adsense team.
---
5. How to get Adsense approval for youtube?
Getting Adsense Approval for a YouTube Channel is completely different from Website. First of all, you have to fulfill the minimum requirement to get Adsense approval for YouTube.
Have more than 1,000 subscribers
Have more than 4,000 public watch hours in the last 12 months.
If your YouTube channel meets the basic requirements of Youtube then you can apply for the youtube partner program.
Step by step process to apply for Adsense With youtube Channel
Sign in to YouTube.
In the top right, select your account icon > Creator Studio.
In the left menu, select Channel > Status and features.
Under "Monetization," click Enable.
Follow the on-screen steps.
Once you submit your application, the Adsense team will review your channel's content to see whether it follows all of their guidelines.
In case everything goes in your favor your Adsense account will be successfully approved by them in next 24-48 hours.
---
6. How to make an Adsense account if you are under 18?
If you are under 18, then you can create an Adsense account with your parent's or guardian's details, if they allow you to do so.
---
7. How to get Adsense approval for an unsupported language?
Sorry, you can't get Adsense approval for a website which is using unsupported languages. You may have seen some special cases where ads are being displayed even on unsupported language blog.
Actually, some people get Adsense approval for a supported language first and then use the same ad code on other blogs.
---
8. How to get Adsense approval without a website?
There are few ways to get Adsense Approval without a website. Example – You can get Adsense approval with a Youtube account, you can create your account on revenue sharing sites like hub page and doc stoc, etc or last but not the least you can create an app to make money from Adsense without creating a website.
---
9. How to get Adsense approval in India?
The Adsense approval process of India is not different from other countries. You just need to create a website, use a good theme, add clear navigations, add all the important pages, etc and finally submit your application for Adsense approval. You will easily get Adsense approval with 1-2 days in India too.
---
10. Why was my AdSense application rejected?
Adsense rejects an application for various reason. However, some common reasons are Insufficient content or Unacceptable site content, Blogs which are poorly designed, Blog which has no privacy, about and contacts us pages, Blog which Does Not Comply With Google AdSense Policies.
---
11. How do you know if your AdSense is approved?
First of all once Google approve your Adsense account they always send you a congratulation message on your registered email account. As well as once your Adsense account is full approved then you'll be able to use all the sections available in your Adsense account dashboard. Until approval, those sections would be inactive.
---
12. What are the best Adsense Alternatives?
There are plenty of Good Adsense alternatives available on the internet which gives you the opportunity to show contextual and display ads on your website in order to make money from your blog.
Media.net, Adsterra, Meridian, Viglink & Infolinks are some of the food Adsense alternatives currently availabale.
You can also check the list of 25+ High Paying Google AdSense Alternatives In 2019
---
Browse More Blogging resources:
Final thought on Getting Adsense approval
To sum up, in today's time getting Adsense approval is not actually hard as long as you have a good website that focuses more on the good quality content, uses a great design & layout and optimized for Google search engine. Because that's what Google expects from their every publisher.
Make sure you follow all the points that I've mentioned above before applying for Google Adsense. I am sure if you follow all the above points you'll definitely get Adsense approval in upcoming days.
So, all the best to you my friend.
If you have any question or doubt regarding how to get Adsense Approval then, please let me know in the comments.
If you enjoyed reading this article then make sure to click on the below given social sharing button and share this article with your friends.