How To Start A Blog That Actually Makes Money in 2019
One of the best career decision i have taken in last 2 year is to learn How to Start a Blog in India.
By showing your interest in this article, You have also proved that You are serious about Learning Blogging.
Today, Blogging is not only Limited to just showing your writing Skill, It has became a good business Model too.
Do you Know How much money Michelle from MAKING SENSE OF CENTS make?
They earn approx $110,284 From blogging business.
Let's take an another example.
Can You imagine how much Pat Flynn earned from His blog Smart Passive Income in 2018.
Boom …..
$2,171,652.55
It is approx 15 crore sixty one lakh 85 thousand in Indian Rupees.
This Proves, Blogging is also a good business from Earning Perspective.
Apart from making money, You can express yourself in a unique way from your Blogs.
Help others with problems you've overcome.
And You can establish yourself as an expert, and even make some money.
Yes, you have to agree with me that money is very important to live a good life.
Here i am not promising you that you will start earning in crores overnight, But if you start taking small steps you will definitely start earning money from Blogging.
Here's How To Start A Blog In 2019
The goal of this guide is for you to create your blog TODAY. Not tomorrow, next week, or next month... but right now.
CHAPTER 1:
Choose A Niche : Decide What Your Blog Is About
In this chapter we'll cover the basics.
First, you'll learn How to decide a niche which Can guarantee your success.
Basically, this chapter will cover all those things which you need to keep in mind before choosing your blog niche.
First thing first, You need to select a niche (Topic) on which you are going to start your Blog.
I got lot's of emails everyday, where beginners ask me " Sir, i am confused about niche, Which niche should i choose where i can make more and more money"
But My Friends, If you focus on money before starting your blog, You are going to loose the blogging game very soon.
For starting a Blog, You don't need a revolutionary idea, But if you want to win the blogging game then your Blog should be focused on a specific Topic.
I am not telling you to find a unique idea then start a Blog.
No!
Because most of the Topic which comes in your mind are already selected by lot's of blogger on internet.
Choose any topic, But you have to keep three things in Mind :
When it comes to choosing a niche you have to ask yourself "Do i enjoy learning that particular Topic"
Because if you don't love to learn what you are going to blog about, then mark my word, your blog is not going to last long,
In fact, you shouldn't start the blog, if you don't love what you're blogging about.
Whatever niche you are going to choose, You should be naturally curious about that Topic.
If not then you are quickly going to run out of ideas.
Most of Newbees Think that Defining a niche can limit their Growth or money making opportunities.
But it's not True.
In Fact, If you have not defined a niche for your blog, Then you are going to struggle for your blog growth and Monetizing opportunities.
To give you some Idea, Below I have given some example who are very successful in their niche.
Backlinko​​​​ : Brian Dean started his Blog called Backlinko and grew it to the one of the most Popular SEO and Backlink making Technique Blog.
Smart Passive Income : Pat Flynn started his blogged named as Smart Passive Income where he keep writing content and strategies for running an online business. Today he is among one of the bloggers who make millions of dollars every Months.
Kayla Itsines : Kayla Itsines made her blof for helping as many women as possible achieve their ideal body. She share Fitness Tips and tricks as well as sell her courses on KaylaItsines.com
​

WPBeginner : WPbeginner is another good example of niche focused website. Syed Balkhi started his blog in 2006 named as Wpbeginner, where he share his guide and Tutorial related to WordPress. A beginner who is just starting with wordpress, WPBeginner is perfect place from him to learn about Customization, Plugins, Theme and Other Wp tips and Trick
These are some of the example of Successful niche website.
I can give you thousands of More example, but i am sure Now you have got my point.
Your niche doesn't need to be Finance, Blogging or WordPress. You can start a Cooking Blog, Sports blog, Home decorator Blogs or Life style blog or anything.
If you are still confused, then just ask these question with Yourself.
Once you got your answer, You are ready to move to Chapter 2.
Now, let us delve into the Blog making process suggested by How to Start a Blog in india in 2019 Guide:
CHAPTER 2:
Decide A Name For Your Blog That You Won't Regret Later
In this chapter you'll learn How to choose a perfect name for your new blog which you won't regret later.I am sharing a 5 step process which will help you in choosing a best name for Your Blog.
The Next Crucial step in your Blogging journey is to choose a name for your Blog.
Most of the bloggers take too much time in selecting a name for their Blog.
But frankly speaking, The Blog name doesn't matter at this point.
You don't have to waste your precious time in finding out some cool, Unique or different Blog name.
Follow this 5 step process for Choosing the Perfect Name for Your Blog
What is your blog going to be about : Above we have already discussed about importance of selecting a Blog niche. Now once you have selected your niche, You should think about a name which is related to your Blog Niche.
√ ​Good Example : "WPbeginner" is a perfect name for A Blog where you can share article related to wordpress.
​

× Bad Example : "Guiness Photography" is a bad name for a blog where you are going to share article related to gaming.
​

I am sure you got My point..
Stop Being a perfectionist : Some People waste too much time on picking a name. You aren't assigned for giving a name to Planet. So just pick a simple name.
Key Point : Jon Morrow changed the name of his blog BoostBlogTraffic to SmartBlogger. Smart Blogger get millions of traffic every month. So if he can they you can also change the name if required.
Keep it simple and short : Short's name are very easy to remember. So whenever anyone ask you for your blog name , You can easily tell him and he can easily remember the short name.
If you are still confused then let me help you..
​

Go to Nameboy.com and enter the keyword of your niche.
​

For an example : I am going to start a Blog on android niche.
​

So. I entered the keyword "android"
​

Boom…
Here they have suggested more than 1,000 names for my Blog..
​

You can do the same.
Where Should I Get My Domain Name?
Now, If you are new to Blogging….
You Must be wondering What is Domain Name?
In simple word "Domain is the name which your readers will type into their browser search bar". For example, when you need to go to Facebook, You simply type "www.Facebook.com"
Here Facebook.com is Domain name of Facebook company.
Similarly, If you have decided to name your Blog "Cooking Zone" You can book Cookingzone.com as Your domain name.
Two things you need to Keep in mind when you are Purchasing a domain :
Never Buy Digits In Domain Name: Never buy a domain name which contains digit. For example : top10things.com, tip2top.com, 10tricks.com. If you put digit in your domain name, your readers will be confused. Most of the time they'll forget it was a digit or written in words.
Always Prefer .Com extension: Domain extension not matter too much. But i always recommend my viewers to get ".com" domain extension. ICANN ( Internet Corporation for Assigned Names and Numbers) has differentiated the domain name as per country like .in for India, .au for Australia, .co.uk for UK .pk for Pakistan and so on.
But such domain names are perfect for targeting one single country. Whereas .com is a global domain extension. So you should always prefer .com domain over any other domain Extension.
Where is the best place to buy my domain name?
I recommend everyone to Purchase Domain from Namecheap. Because they are most trusted one in this industry
Next question in your Mind will be "How to book Domain name?"
First of all Go to Namecheap.com, Enter your Domain name and complete the Payment process.
That's all.
Now, let us delve into the best Hosting choosing process suggested by How to Start a Blog in 2019 Guide
CHAPTER 3:
Get The Best Web Hosting For WordPress (At An Unbeatable Price!)
There are literally THOUSANDS of different web hosting providers.
Yes, thousands.
They all offer you a similar service (domain name + hosting) with a relatively similar price.
So how to choose a best one for yourself?
In this chapter you'll learn How to choose the best hosting for your Blog. Here i have shared my experience with different hosting which will help you in choosing a best hosting for yourself.
Now, as you have selected Domain For Your Blog.
Next thing you need to do is choose a Best reliable Hosting for your Blog..
As you need space in your android or Ios device to store your data like Image and Video.
In the same manner, You need web hosting to store data of your website which include text, videos and images, etc.
Do you know as a beginner what was the biggest mistake i have ever made?
Choosing the bad Hosting.
When i came into Blogging field, I had no experience with any Hosting.
In Fact, I didn't even knows what hosting actually means.
But, Today i am here to help you… and Believe me you are never going to regret about my recommendation.
When It comes to choosing a Hosting, There are two thing which mainly matters.
There are almost Thousand of hosting providers who provide same service at almost same cost.
Yes, Literally thousands.
But most of them are not going to give you 100% satisfaction.
Do you Know when i started my First Blog, I Purchased Hostgator Hosting….
And as a result my Site load time was more than 4 second after fully optimizing my blog.
Moreover, My Cpanel also got hacked 2 times in a month.
Which was the most disappointing moments in my career.
All these things happened just because i selected a bad hosting provider.
In last 2 year i have tried more than 8 hosting providers who are popular in all over the world.
But most of the hosting provider disappointed me.
One of the best Hosting i have ever used is SiteGround.
Currently My Four website is running on Siteground Hosting.
I am connected with many facebook Group of Bloggers.
I had seen many newbees always asked my site is very slow? How can i improve my site speed?
Do You Know your website speed mainly depends on hosting you use.
When i was on Hostgator i was struggling to maintain my site speed to at least under 3 seconds.
But Failed..
But When i moved to siteground, My site speed automatically got increased….
Boom…
This is the difference between a Good Hosting and a bad hosting..
For Your Information "In 2010, Google announced that Page speed is a ranking factor in Google search engine, If your sites loading time is very high, your article or blog is not going to rank in Google first page"
Before choosing a hosting, Just remember that hosting is still the #1 factor in the WordPress optimization.
But why Siteground?
You Don't need to trust me….
Trust the peoples, who are happy with siteground Hosting…
Here they are….
Siteground is #1 Rated in Multiple facebook Polls
I have collected some proof where Bloggers rated Siteground #1 in numerous polls by various WordPress Facebook Groups (you can manually click each image to see the poll).
If you do not believe on These Screenshot…No Problem…,
Siteground Average Load Time Is 1.2s…
Here i have collected some proof where, People have shared their Site speed or Load Time after migrating to Siteground.
Now as you all know every coin has two side, So let's see some Pros and cons of using Siteground :
To Get Hosting for your Blog, Just follow these simple steps given Below
Step 1 :- Visit Siteground Pricing page and select a Plan for your Blog.
I always recommend GoBig Plan, But as a beginner you can also start with StartUp Plan. Click on Get Started button.
Step 2 :- Enter Your Domain Name.
If you have already Purchased a Domain name then you have to just enter your domain name. Otherwise you can also directly purchase your domain name from Siteground.
Once you have entered the domain name, click on the proceed button.
Step 3 :- Fill In Your Account Details
Now here you have to fill all the details which they ask you, Don't worry about Privacy they always keep your data safe.
Step 4 :- Enter Your Credit/Debit Card Information
Now you have to make your payment, Enter your Credit card or Debit card information to complete the purchasing process.
Step 5 :~ Agree To The Terms & Click The Proceed Button
Just click on Pay Now and wait for few seconds, Check Your mail and there you will get all the important details related to your account.
Now just login into your siteground account and follow the next step.
CHAPTER 4:
Set Up WordPress To Make Your Blog Live On The Web
Now as you have purchased Your domain and Hosting, Now you need to install wordpress on your hosting.
In this chapter you'll learn How to install WordPress on Your hosting to make your site Live on the internet.
Once you set up process is completed, you can show your blog to the world. So, Let's get started..
Step 1 : Login to your siteground account.
Step 2 : Choose Start a new Website and select WordPress from Software list.
Step 3 : Now enter details for creating your admin account.
Try to Note down these details on a paper or you can use any notepad. Because you will need these login credentials to log in into your wordpress Dashboard.
Step 4 : Now tick mark the terms and conditions checkbox and then click on the Complete Setup button.
Note :- If you have purchased hosting from siteground and domain from Namecheap, Then after installing wordpress, you need to update the nameserver on Your Namecheap account. Read this guide to change name server
If you have purchased hosting and Domain from siteground, Then you don't need to do anything..
Step 5 : Now you have to click on the Proceed to customers area button.
Step 6 : Click on My Accounts option appearing on Top Menu.
Step 7 : Now click on Go To Admin Panel button to get access into your wordpress Blog Dashboard.
Step 8 : Here you need to enter the login details which i earlier told you to Note down on Paper or Notepad.
That's it Finally your Blog is live, You can always use "www.Yoursiteurl/wp-admin" to open dashboard of your Blog.
Now, let us delve into the wordpress customization process suggested by How to Start a Blog in 2019 Guide.
CHAPTER 5:
Give Your Blog A Brand New Look That Grabs Attention
Congratulation for your new blog.
you're now ready to start using WordPress and customizing your blog. In this chapter You'll learn two new thing
If you want to succeed your Blogging game, Then you need to design your Blog in a good Look.
Because a well designed blog always grab attention of peoples to read content.
So, To give your blog anew look you have to change the default theme of Your wordpress site.
Now you might have a question in Mind "What is the best theme for a wordpress site?"
Here is the simple answer :
How To Choose A Great WordPress Theme?
There are thousands of Free theme available on WordPress Theme store which you can use for your Blog.
But in my experience i never suggest anyone to use Free Theme.
Let's find Out Why?
Negative Impact of a Free Theme on Your Blog :
That's why we recommend everyone to use Premium Themes.
I know what Is Going To Be Your Next Question?
Next Question you have "
What is best premium wordpress themes ?
We recommend Everyone to use Generatepress Themes.
Let's find out Why?
Once you purchase Genesis or Generatepress Theme, You will get a zip file on Your Blog.
Now go to Dashboard of your Blog
Click On appearance Option and select Theme from The Popup Menu.
Now click On Add New Option.
Next, You have to click on Upload Option. Here you have to choose the Zip file from Your computer File manager.
Finally, Click On Upload Button.
That's all….
8 Things You Must Do After Setting Up a Blog
Create About Us Page.
About us page is most important page on any WordPress or other Blog. Because About us Page define your Identity of Blog. So, I recommend everyone to write a beautiful about Us Page.
My friend Ankit from Master Blogging recently posted a very good article related to this Topic – 6-Step Formula To Write About Me Page For Your Blog
Create a Contact us Page
Contact us page is something again important for every Blog. Because if your readers, advertisers or anyone want to contacts you, They can easily contact you through Contact Us Page.
We recommend Contact Form 7 Plugin to easily design Your Contact us page.
Submit your blog to different search engines
All the users use different search engine to find answer of their queries. So, You have to submit your blog on Google, Yahoo!, Live Search and Bing search engine.
Add XML sitemap to your blog
Sitemap contains the list of page and Post available on your Blog. An XML sitemap is a way through which you can tell search engines about all the pages that exist on your website.
Sign up and install Google Analytics
Google analytics is important tool for every blogger who want to track pageviews, Sessions, Users and blog Traffic. If you want to see how people are finding your website, track real-time visitors and much more then connect your blog with Google analytics.
Change the permalink settings to 'Post name'
Before writing your first Blog, You should change your default permalink of Blog. By default all wordpress Blog comes with 'Day and name' permalink structure. However, if you do your research, You will know that Day and name permalink structure are not SEO Friendly.
So, I suggest everyone to set Post name as Your default permalink structure.
​

Now your next Question Would be?
​

How to change permalink in wordpress Blog?
​

Login into your wordpress Dashboard > Go to setting <click on Permalink < Choose Post name Option and Click On save.
Activate an SSL Certificate :
SSL stand for secure sockets layer.
SSL certificate ensures that when someone comes on your site, a secure connection is made and the session key is used to encrypt all transmitted data.
If you have purchased Hosting from Siteground then have already got SSL in your package.
So, There might be a chance that by default SSL is installed on Your Blog.
If you are confused about Is SSL activate on your Blog or Not?
Then Visit SSL Checker, enter your domain name and check for SSL activation.
Strat Capturing email and Building your email list :
​

I suggest everyone to Build your email list from day one.
Yes, If you want to be a successful blogger then email capturing is most for you.
Whether you want to increase traffic on your Blog or you want to become an good affiliate marketer.
Email marketing is must….
I repeat Must….
An email list consists of email addresses of users who have signed up on your website to receive email updates in a newsletter or on a special announcement format.
We recommend everyone to use Hello Bar.
Hello bar gives you functionality to capture email through different method.
Like – Header notification bar, Email Popup, Sidebar widget and many more.
Install The Best WordPress Plugins For Blog
1. Yoast SEO WordPress Plugin
Having an SEO plugin is essential for every Blog. Because if you want to optimize your article and Blog for Google search engine ranking then SEO is must.
Almost all Popular Pro Blogger is recommending yoast Seo because I have never seen any other SEO plugin which come even close to being as powerful and effective.
The best part of this Plugin is you can get it for free But Pro version is also available for Adding more functionality.
2. WP Super Cache
Who don't want to load their site fast?
To ensure WordPress doesn't make your web server crash, Always use a cache plugin with good server like Siteground and A2.
There are more than 100 cache plugin available on internet, but i always prefer to use WP super cache because of its efficiency and effectiveness.
Moreover It is a Free Plugin.
3. Akismet
No one wants their blog to be filled with spam comments.
This is a free plugin which let you combat spam comments on your WordPress blog.
4. OneSignals
Onesiginal is an excellent Plugin which will increase your Blog Traffic.
Let's see How?
OneSiginals add Web Push Technology, Which means your readers who are using Chrome, Safari, or Firefox browsers will get a notification to subscribe to your blog updates.
And once they subscribed to your Blog Post, they will get notification on their Phone or computer each time when you upload a new article.
Isn't It cool..
5. Social Warfare
Social Bookmarking has became a major factor in Search engine Ranking.
And to get more and More share for your content, You need to Place social media sharing button at right place.
Social warfare gives you functionality to add share button wherever you want in your Blog.
It supports all modern social media platforms like :
» Facebook
» Twitter
» Whatsapp
» Telegram
» Pinterest (direct on the image)
» Reddit … and many more
6. Sucuri Plugin
There is no better time of securing your Blog from the day one.
Do you know everyday almost 10,000 of websites got hacked….
So, it is always recommended to use a Security Plugin which gives you firewall protection.
I personally have used both free and Paid Security Plugin.
And in my experience, I found Sucuri Plugin as one of the best security Plugin which protected my site more than 100 times from Hackers attack.
7. Wp Review Pro
Wp review Pro makes you stand in search result among 100 of different results.
You must be wondering what is rich snippet….
As you can see in given below picture wp review pro has added extra information in search engine Like star rating, videos, or even recipe information.
If you are reviewing any product on your blog like – books, movies, games, or anything else.
Then use this star rating snippet system, It can increase your traffic and CTR upto 140%
8. Thirsty Affiliates
If you are planning to start affiliate marketing through your Blog then no one can be better Plugin than Thirsty affiliate….
If you don't know what is affiliate marketing then make sure to check out this guide – How To Make 5000$ every month from Affiliate Marketing in 2019 | The Ultimate Guide!
The majority of new bloggers failed to make huge affiliate sales due to lack of optimization.
The optimization of a affiliate link will be even more easy when you use a right tool.
Thirsty affiliate is an amazing WordPress affiliate link management plugin that comes with amazing add-ons, which let you make more money from Affiliate marketing.
9. WP Smush
Wp smush is a great image optimization Plugin.
It helps you in resizing, cropping, compressing $ optimizing your blog images.
If you optimize your all blog images, your site will load much faster.
Which will increase user internet on your blog.
10. Backup Buddy
Taking backup of your wordpress site is always essential.
Because if your website got hacked or crashed, you can easily restore backup and get your million dollar blog.
Backup Buddy is most popular premium WordPress backup plugin.
It allows you to easily schedule you daily, weekly or monthly backup.
It also allows you to store your backups in Dropbox, Amazon S3, Rackspace Cloud, FTP.
While if you don't want to invest money in a good premium backup plugin, then you can also go for free updraft plus Plugin.
CHAPTER 6:
Publish Your First Content
In this chapter These are the three things you are going to learn:
I believe, By now you should have your own working wordpress blog with a good domain name which is hosted on #1 hosting siteground, As well as you have already set up custom blog theme that fits with your blog's topic.
Congrats again, You have done a lot and managed to get so far.
Now you'll learn"How to write your first blog post" and i'll be also sharing some great tips for writing blog posts.
How To Write Your First Post?
To add A new Post in wordpress, All you have to do is click on "Posts" section on the left-hand side-menu, then click on "Add New".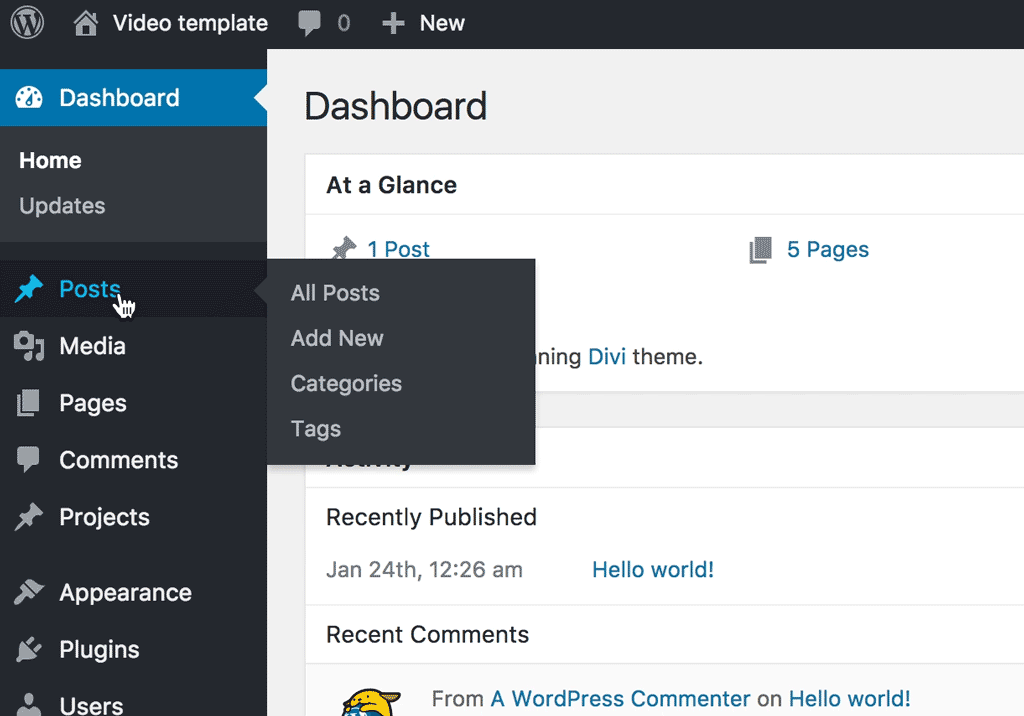 On the next screen you'll get wordpress post editor which will look something like this :
In the first box you can write Title of your Blog post and your content goes to the big text box appearing after title Box.
Finally You can save your post as draft or you can publish your content live by using the box menu on the far right of the page.
WordPress also gives you option to schedule the post to be published later – or make the post private so only friends can see it.
Once your post is published it can be found in "All Posts" section of the "Posts" tab, so you can edit it anytime.
How To add Image in WordPress?
Adding image in your blog post is very easy, Just click on "Add Media", button right above the lower content field.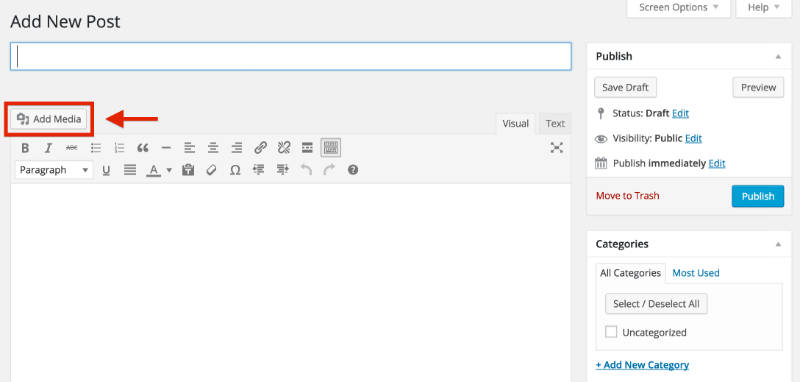 Next you have to click on the "Upload Files" tab on the screen that pops up on your window, then just click on "Select Files".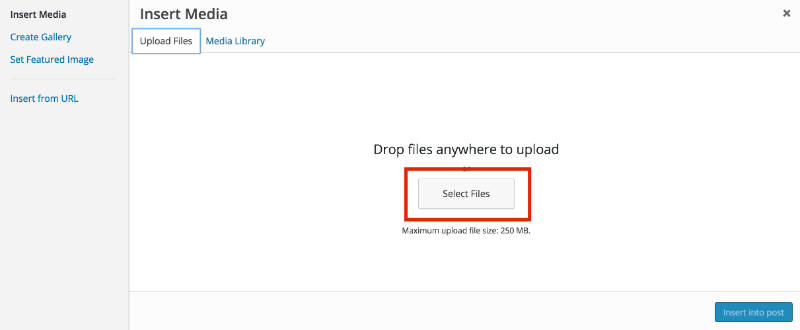 Once you find your image in file manager, Just double click on that particular image. WordPress will automatically upload that image into your blog Post.
Once your Image is successfully uploaded on WordPress, Make sure to optimize your image for Like : Give a good title, Add alt-text and description of your photo.
Image optimization is very important for your blog SEO - So, Checkout this Image seo guide Published by Ahrefs.
Once everything is done just make sure that you have selected the image and finally click the "Insert into post" button to add the image to the post you're writing.
How To add Links in WordPress?
Internal linking and external linking both plays an important role in Your site SEO.
To add a link, click on the icon in the toolbar that looks a bit like a chain link.

On the pop-up, you'll need to enter the link of Post which you want to add within your blog post.
Here are few Options which you'll find in the Pop-Up Box :
How To add Heading & Subheading in WordPress?
It's always a good idea to add Heading and Subheading in your content. So, That readers can easily read and scan your page. Not only for human it is also good for Google Search Engine.
To add heading or subheading into your blog, Click on the drop-down menu on the bottom left of the toolbar.
Now from the Popup Option you can select Heading 1, Heading 2, Heading 3, Heading 4 and so on. It's always recommended To use only one Heading 1 (Which is generally automatically added in your content as Blog Post Title) So you don't need it to add again and again. You can use "Heading 2" or "Heading 3" for other sections in the copy.
Now It's your turn
Guys, this was the complete guide on How To Start A Blog In 2019. I hope you enjoy reading this guide.
Once you started your Blog, Just write amazing contents and share it to social media.
Let the world knows about your passion and skill.
You can read more guide on our Blog to which will help you in driving traffic to your Blog.
If you have any question or suggestion regarding starting a blog, then just comment down below. I am here to help you out.