If you are someone who is struggling to increase organic search traffic to your website.
I am 100% sure that you are ignoring or missing some important things like Keyword researching, competitor analysis, Link building, ON & Off Page SEO, etc.
Because if you want to build a profitable blog for the long run then you must have to become Good at all these things.
But I guess you are not a robot!
Then how can you research and implement all these things by yourself?
That's where an All in one SEO tool like "SEMRush" Come into handy.
There are tons of ways SEMrush can help boost your SEO/marketing efforts.
So, if you are wondering How this tool can help you in building a profitable blog, then Here are the 13 benefits of SEMRush tool that ultimately helps you get more organic traffic and more sales.
So, without further ado Let's dive into the details of SEMrush benefits.
EXCLUSIVE 14-DAY TRIAL OFFER
As readers of Bemakemoney, I am giving you an opportunity to skyrocket your Blog organic traffic and revenue!
Click here to Grab SEMrush FREE for 14 days, Then enjoy all the data and research you can conduct against your competitors using this awesome tool!

1. Understanding Your Website Current Success
Do you want to know How much organic traffic you receive every month? At which position your keyword rank in Google? How many Do-follow & No-follow backlink you have? and much more interesting stuff about your site?
The SEMRush tool gives you a complete overview of your site performance.
Here is how it looks?
As you can see here you'll get a full glimpse of your site stats like:
With the above metric, you can easily find out who is linking to your site, what is your keyword position, how much traffic you are getting for each keyword and so on.
So, this tool makes it very easy to find out how your site is performing by just entering your website URL into SEMRush dashboard.
You may also like – SEMRush Review 2019: How It Increased My site Traffic by 250% in 6 Months
2. Find low‐hanging content opportunities by looking at your competitor's high traffic pages
As you know the fact that your blog competes with the many other blogs in your niche in the SERPs.
So, Wouldn't it be cool if you could find out which of your competitor's blog posts get the majority of the organic traffic?
You can easily do it with the help of SEMRush Domain explorer.
Just go to domain analytics > enter competing domain > Top pages
For an example here is the top performing page of "neilpatel.com" – As you can see it get 21% of all organic search traffic to his blog:
However, not only you can use SEMRush Domain overview to discover your competitor's top‐performing pages, but you can also find out which of their blog post would be easy to outrank into SERPs.
You just need to look out for the page that gets tons of traffic with very few referring domains.
Let me walk you through it.
To begin with, first You have to enter your own website URL into domain overview tab and click on the "Start now" button then you have to navigate to the "Domain Analytics" >> "Competitors" tab.
There you'll see a competitor positioning map which highlights your top organic search competitors.
Just note down your Competitors URL into an excel sheet.
Now let's go a step further and enter your competitor's website URL into domain analytics and then navigate to the Top pages section.
There, SEMRush will show you the traffic stats for each country that sends the most organic traffic to each page.
To find out low‐hanging content opportunities, find out those blog post that has very few backlinks yet still receive lots of organic traffic from Google.
Once you find a blog post, you can use the "Keyword" dropdown to unveil all the keywords that blog post rank for into Google search result.
Now you can use the same keywords and write 10x better content than your competitor's and easily outrank them from the search result.
3. Make more money by finding better Advertising Opportunities
As most of the professional marketer say that – one of the best ways to make money online is to display ads on your blog.
There are many business owners out there who pay a lot of money to Google Adwords for displaying their advertisement into Google top position.
However, it is a fact that Adword can be really very expensive for competitive keywords.
So in case if you are able to find out those companies who are willing to pay money for the advertisement then you could make money by suggesting they put their display advertisements on your site directly or even join their affiliate program.
But isn't it will be hard to find the Advertising Opportunities for your blog?
Not at all, SEMRush tool makes the whole process very easy. It looks for the keywords for which you are ranking for and then identifies the business owners or companies that are willing to rin pay-per-click ads based on your keywords.
SEMrush then displays these keywords in a user-friendly chart and connects to the businesses using them. So you will know which company to reach out to while looking for great advertising opportunities.
For an Example: If you look at neilpatel.com site, you can see that the following sites are carrying out paid advertising for keywords neilpatel.com is already ranking for.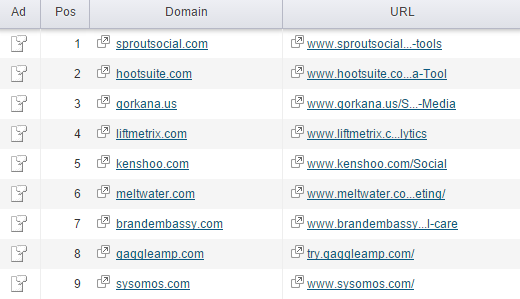 4. Check Traffic analytics of any site in Just 1 second
Are you curious to know the estimated traffic of your competitors?
Then you should definitely give a try to the SEMRush new feature called "Traffic analytics" which gives you an idea of How much traffic your competitor's or any other's website is getting through Desktop and Mobile.
All you have to do is go to Go to Traffic Analytics under Domain Analytics tab and entry the domain URL of any website and click on the search button.
Boom…
SEMRush gives you the complete overview of the traffic along with the sources (from where they are receiving the traffic)
One thing you should keep in mind that the volume of traffic shown here is only based on the Organic traffic, that's why it's considerably lower than you might expect for some sites.
Apart from estimated monthly traffic, it also shows you some more useful stats like Unique visitor count, bounce rate, SEMrush traffic rank, etc.
Not only that you get some deeper detailed information like How much traffic your competitor's website is getting from each country, How much traffic your competitor's website is getting from different social media platform etc.
5. Find low competition keywords that are easy to rank into Google
When it comes to finding low competitive keywords with high traffic potential, SEMrush is my go-to tool.
What I have personally seen that most of the people think that the keywords with high search volume will receive tons of traffic and the keyword with less search volume will receive very less organic traffic.
But that is not the actual truth…
The fact is an article rank in Google top position never rank for only a single keyword.
According to Ahref recent case study, the average ranking page actually ranks for nearly 1,000 long tail keywords.
So, let me show you the step by step guide that I use to find extremely low‐competition keywords with high search traffic potential:
First of all, you have to go to the Keyword analytics tab and enter the keyword (about which you want to create your next content.)
There you'll get a quick overview of the keyword like – search volume, number of results, CPC, competition, etc.
As you can see here that the primary keyword that I have entered into SEMRush tool has a search volume of 8,000 monthly searches.
Which means this keyword is highly competitive and I need lots of quality backlinks to get #1 rankings, So its good to stay away from those keywords.
So, what's next?
Now, let's go more deeper and find out the golden keywords that are easy to rank into Google.
Just scroll down below and there you'll get phrase match keywords section for your primary keyword.
Click on the "View full-report" button to get tons of keyword ideas for your main keyword.
Now there you'll get tons of long-tail keyword from which you can pick the keywords wisely with low competition.
I will recommend you to apply the given below filter to get only those keywords which are easy to rank into Google.
Search Volume – 0 to 2500
Keyword Difficulty – 0 to 50
Once you apply the above filter, SEMRush will show you only those keywords which are very less competitive.
That was the step by step process to find less competitive keyword with SEMRush tool.
Recommended Guide – How To Do Keyword Research In 2019 [A Step By Step Guide]
6. Track Your Past and Current Rankings
Another key benefit of SEMRush tool is that you can easily track your current and past rankings reports.
You can easily keep an eye on progressing (or regression) of your ranking into Google over a period of time so that you can analyze what worked for you and what not.
Most of the blogger who doesn't use an SEO tool like SEMRush may not really have any idea of which keywords or article where a true success for their blog in term of Organic Google traffic.
Suppose there was a blog which you wrote 6 months ago that led to a surge in your rankings. Then why not write for a similar topic, keyword and use the same strategy that was used to write the blog post that got you so much success.
In this way, you can repeat the history again…
7. SEO content template
Is your content not performing well into Google search engine?
Have you ever tried to find out the reason behind this…
Here is the answer… Actually, you are not perfectly optimizing your content.
One of the new feature of SEMRush " SEO content Template" lets you analyze your competitor's content (ranking into the top 10 positions of Google search result) and gives you an idea of how you can optimize your article to outrank them.
Here's how it works.
First of all, you have to enter a keyword and click on the Create SEO template button.
Once you enter your primary keyword, It analyzes the top 10 content ranking into Google for your primary keyword and then it gives you actionable recommendations for content length, domains you can get backlinks from, semantically related words, etc.
Let's understand the whole process with an example:
Let's say you want to write an article on "Best keyboard", but you don't know how to optimize your content into best possible way to increase the chances of ranking higher into Google search engine.
SEO Content Template comes to the rescue!
You type in a keyword and the tool will give you ideas on your text composition.
If you check the above screenshot carefully, you can notice that SEMRush has given us some really nice information that can help us in creating a well-optimized article for the keyword "Best Keyboard."
As well as it also gives you technical recommendations like where you should put your keywords to properly structure your content.
8. Find critical SEO issues that's hurt your website performance
Site audit is all about fixing your site's technical and no-technical issues that are hurting your website's performance in Google.
Most of the blogger neglect this important thing and that's the reason why their site doesn't perform well into SERPs.
If you are using SEMRush tool then you don't have to pay extra $100 every month for a Separate Site Audi tool.
SEMRush new "site audit" feature lets you easily find and fix on-site issues and boost SEO-optimization.
The website audit is a pretty comprehensive function, so I'll recommend you to start with checking your site health score that gives you a high‐level overview of your website health.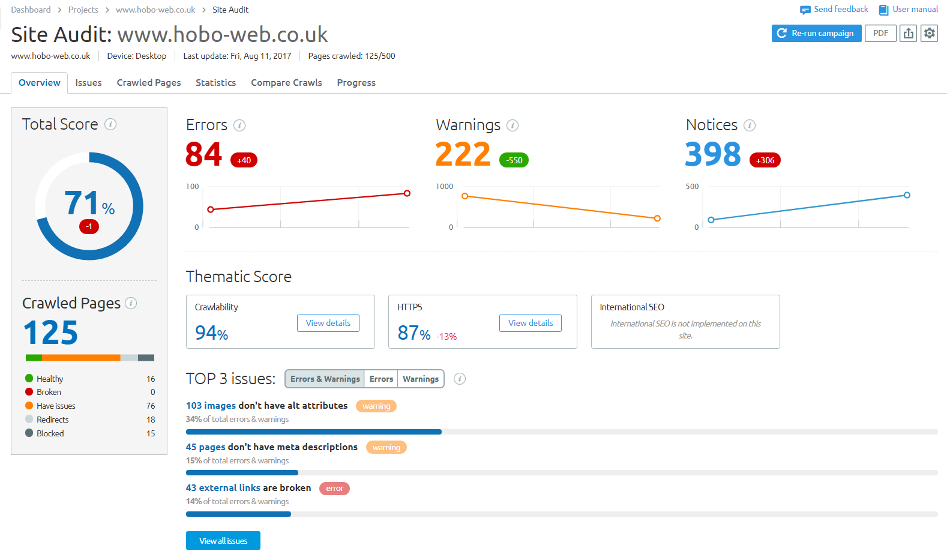 For example:- Above I have attached the screenshot of the site audit result of a popular SEO blog "www.hobo-web.co.uk/" It gives a score of 100 being the highest and 0 being the lowest.
The higher you score the better it is for your site in getting better rankings on Google.
Once you are done with checking your site SEO score, you can dive deeper and investigate specific SEO issue like:
This is just the starting when it comes to site audit: You should check for tons of different issues during every single crawl like – Internal and external link issues, Find duplicate content pages, Detect all possible AMP implementation issues, Find hreflang mistakes, etc.
Within Site Audit, you also get proper guidance on why this issue cause and how you can fix it out.
So, when it comes to site audit, no other tool can compete with the SEMRush tool.
Read also – 25 Secret I wish I Had Known Before I Started Blogging (2019)
9. Analyze your Competitor's Backlink Strategy & then replicate their strategies
Quality Backlinks are the key to the success of any big site which receives thousands of organic traffic every day.
Without getting links, it is nearly impossible to get higher ranking into Google SERPs for competitive or high-volume keywords.
But the Sad part is no one is going to link you automatically…
You have to go out and find the best link building opportunities in order to increase ranking and traffic of your blog.
Although there are many link building strategies has been developed by the professionals still, from my experience, I believe If you can find out how your competitors are acquiring links, then you can probably replicate the same strategies in order to build high-quality links.
So, Now you must be wondering how to analyze your competitor's backlink strategies?
It is very simple, Just open SEMRush tool, navigate to Domain Analytics >> Backlinks and enter your competitor's domain URL and click on the search button.
For example – We entered backlinko.com into SEMRush tool.
As you can see in the above image, More than 20,0000 backlinks pointing to his site. All those links are coming from more than 10 thousands of different sites, which is pretty amazing.
Furthermore, you can check the type of domain linking to their sites, Backlinko.com has .edu, .gov, .com, .org, .net, and so on TLD link.
There's even more to analyze.
When you take a deeper look into the referring domain, you'll be able to get to know the actual source of the backlinks.
Once you click on the referring domain, It will bring you a complete list of referring domain for the site.
Also, you can see all those links are coming from over 10,000 various sites. SEMrush also shows you details like domain score (the more it is, the better impact can create on Google) along with the Trust score.
From all the information given by SEMRush tool, you can find out your competitor's backlink strategy and then replicate the same strategies on your site.
Final thoughts on SEMRush Benefits & Uses
I have just given you 13 great reason to use SEMRush tool. Whether you are a blogger, SEO expert Marketer or business owner, You will find SEMrush as one of the most effective SEO tool.
So, if you are a blogger who is not currently using SEMRush, then my friend you are definitely missing hell lot of opportunities which you can use to grow your blog and income.
EXCLUSIVE 14-DAY TRIAL OFFER
As readers of Bemakemoney, I am giving you an opportunity to skyrocket your Blog organic traffic and revenue!
Click here to Grab SEMrush FREE for 14 days, Then enjoy all the data and research you can conduct against your competitors using this awesome tool!

So, what's your thought about the SEMrush tool? Do you find this "SEMRush Benefit" article helpful, Comment down below..