Everyone knows it very well that having social media sharing button on their blog post is essential to get traffic from Social media.
But it is always a challenge to find the Best Social Media Sharing Plugin that works well both on desktop & mobile.
When I first started my blogging journey, I tried tons of different social media sharing plugins…
From MashShare to Social warfare i tried almost all the plugins.
Honestly speaking, I used Social Warfare Plugin for more than 8 months and it was working very well till 22nd March.
But on 22nd March, a tragedy happens with this plugin – Actually Social Warfare Plugin was allowing malware into installs.
Like everyone I also deactivated the plugin, because of this single plugin more than a hundred websites got hacked in one single night.
Now again i installed different social sharing Plugin including Add this, social pug & Sassy Social Share.
But every time i was missing some features which I get to use in my previous social media sharing plugin.
Finally one of my Blogger friend suggested me to try Social snap, so like any normal plugin, I gave it a try.
And guess what…
I am using Social Snap Plugin from last 4 month…
So, Today I decided to share my personal experience or Social Snap Review – So that this Social snap Plugin review will help you make an informed decision of which social media share plugin is best for you!
[optin-monster-shortcode id="vsdwslcebn7trjv9krbu"]
What is Social Snap?
SocialSnap is an all-in-one social media marketing toolkit or social sharing Plugin for WordPress that allows you to add Social sharing button, click to tweets button and other useful functionality to your site.
Social snap WordPress Plugin came into demand recently when one of the top social sharing plugin (Social Warfare) was suddenly hacked leaving thousands if not millions of sites under risk.
That's when everyone was looking for a good social warfare alternative.
It was always a challenge to find the perfect alternative as Social warfare was a feature-rich option that doesn't take a toll on the site's speed.
Most of the social sharing Plugin available including free and Premium lack in customizations and designs option.
Below are the some reason why i was unhappy with most of the social warfare alternatives:
It was hard to find the perfect alternative (given social warfare was SO good including almost negligible effects on site speed and performance) but not impossible.
Finally, I found Social snap a good fit for everyone who is a design-oriented person like me and looking for a feature-reach social share plugin.
One thing I would like to add here is it is not just a WordPress social share plugin!
It is a one and only social media marketing tool that allows you to check complete social stats and control how visitors share & view your content.
Social Snap Review 2019: Why You Should Choose Social snap Plugin over any other Social sharing Plugin
Well, I have tried my best to wrap why you should choose Social snap WordPress Plugin in place of any other social sharing Plugin.
1. Rated in different Facebook Polls & Recommended by many Professionals
Well, I am member of the lots of Facebook Group where I get to connect with lots of like-minded professional bloggers.
From past few months what I have noticed is whenever someone asks for "best Social media sharing Plugin" through facebook poll or Post, Approx 99% time Social snap Plugin is rated as No#1 plugin in the poll.
Don't believe me?
Wait let me show you the screenshots which I have collected for this social snap review from Different Facebook Polls…
Look, Why most of the Pro bloggers like Harsh Agarwal, Adam Connell, Mayank Majeji is recommending this awesome social sharing Plugin.
---
Read also – Top 10 Famous Bloggers in India & Their Earnings
2. Super Fast Loading Social Sharing Plugin
We all understand the Importance of Website speed as it is considered as one of the important Ranking Factor for Google.
However, if you don't use an optimized high-Performance Social share button then it can easily slow down your site.
And Social snap developer understands it very well, so they have made this plugin in such a way that it loads JS files asynchronously so it doesn't slow down your website.
Additionally, they also have a special feature to update share count by tracking button click of your site visitor rather than calling APIs and installing scripts (like newsharecounts, etc) which easily hog your website resources.
On the other hand, Social snap also uses SVG vector (Lot more lightweight) icon instead of an image that makes your website load quickly.
So, If you use Social snap over any other social sharing plugin, you never have to compromise with your website loading speed.
Must-read Guide – 20 Ways to Speed Up Your Website and Improve Conversion
---
3. Providing Far More Advanced Features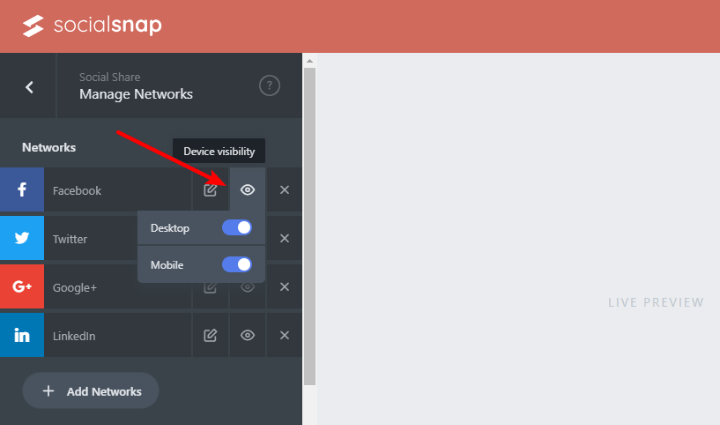 As far as i have noticed that if a social share plugin is lightweight, most probably you have to compromise with the features.
Thanks to social snap developer who have given tons of advanced social media marketing features and many options to customize how your button look, how they appear and where they appear.
Some of the most useful premium features of social snap are:
Click to Tweet,
Social Auto Poster,
Boost Old Posts,
Social Meta Tags (Facebook Open Graph & Twitter Cards)
It also comes with some additional features and add-ons that help you to grow your social media presence even better.
---
4. Recover your share counts easily
Most of the time when we change social sharing plugin, we lost our old social share count..
That's a big problem.
But If you install the social snap plugin on your site and lost your share count in any of the following cases:
Change the social share plugin.
Change your domain name
Change your permalink structure
Change Http to Https Protocol
Then you don't have to worry about losing old share count because social snap gives you the functionality to recover your old share count in just a few clicks.
Read this full tutorial to Recover Social Share Counts with Social Snap!
---
5. Easy to Use Setup in Minutes
Although most of the social share plugin is easy to use, still there are some social share plugins available in the market which is not user-friendly.
Social Snap is the most beginner friendly Social Sharing plugin for WordPress. You just have to install the plugin on your website and start growing your website in a minute.
They have given easy to use configuration option which requires absolute zero coding skills.
---
6. Disable Social Share Buttons on an Individual Post
Yes, that's an amazing feature which you most probably never find in any other plugin.
Social Snap gives you the functionality to enable or disable the share button on an individual post.
It doesn't matter whether you are using the latest Gutenberg WordPress Editor or old classic editor.
---
7. Mobile-friendly Social Share Plugin
In the past, I have seen many social plugins having issue with the responsiveness in mobile phone or small screen device.
But social snap has a responsive social share button that automatically optimizes for mobile so actually, you never have to worry about it.
I have never ever received any complaints regarding social bar blocking users in Mobile after using Social snap Plugin.
Their social share buttons are designed to provide high-end UX/UI experience and give 100% mobile responsive in any viewing device.
---
8. Social snap Gives you 30-Day Money Back Guarantee
With the social snap plugin, you'll have peace of mind.
You don't have to completely commit to the Social snap plugin unless you are 100% satisfied .
In case, Social Snap won't meet your expectations, You are fully covered by their 100% money-back guarantee.
You can request a refund within 30 days after purchase and you'll get your money back without asking any question.
So what more you can expect from a WordPress Social share plugin.
---
Recent Posts You Shouldn't Miss:
Social Snap Review 2019: Social Snap Features – All-in-One Social media Plugin for Bloggers
As I earlier mentioned, Social snap is a feature-rich WordPress plugin.
To Continue this Social Snap review, let me give you a high-level look at what this plugin offers to you.
1. Social Snap's Social Media Sharing buttons review
Social snap provides responsive great-looking share buttons for all the devices for all the most popular networks, including different unique placement options.
Let's explore all the features briefly –
(a) More than 30+ Social Media Share Networks
Social snap lets you and your reader share your content on over 30+ social media platforms.
These social media platforms are once chosen will appear on all the selected location you chose from the placement setting.
You are likely to find almost all the popular and your favorite social media platform in this tool.
Facebook
Twitter
Pinterest
LinkedIn
Mix
Reddit
Email
Whatsapp
Messenger
Buffer and many more.
---
(b) Multiple Placements That You Can Easily Control
Social snap provides some good settings for button Placement, It lets you add social media share buttons to multiple locations on your website.
It also has a share hub that is just a minimal looking button and only shows up when the user hovers on it.
---
Where to place social share buttons on the WordPress website?
---
Floating Sidebar
Adding Floating sidebar social sharing button is a proven way to increase social share.
Social snap lets you add a very attractive floating sidebar social share button which is highly customizable from the settings.
As you can see in the below image it provides a very attractive floating sidebar social share plugin.
Here is an example of how social snap Floating sidebar button Looks like:
---
In-line Social Share Buttons (Below and Above Post)
Social Snap lets you add awesome looking in-line social share button on different location including above the post, below the post and in both locations.
Additionally, if you don't want to show inline sharing buttons on Mobile, you can disable it from settings.
Here is an example of how social snap inline button Looks like:
Have a look at the other possible places for showing social share button.
---
(c) Highly customizable Button
My site design matters a lot for me and Social snap is one of the few plugins whose design impressed me a lot.
Most of the social share plugin gives you minimal power to customize and have a lot of limitation for customization.
Social Snap Offers high-end UX/UI mobile responsive social share buttons.
It lets you easily customize the share button shape, size, animations, colors and much more to match your website branding.
Here is the list of all the customization option available in the social snap plugin for WordPress:
4 Button Shapes
3 Button Sizes
Unlimited Colors
Entrance & Hover Animations
Alignment Options
Custom Button Order
Custom Button Labels
Share Button Tooltips
Control spacing between share buttons
Disable buttons of specific pages
---
(d) Social Proof
The more shares and engagement your blog post get chances are that blog post will get even more attraction.
Displaying share count on your blog post is the best way to encourage your readers to share your content even more.
With social snap plugin, You can choose where and when you want to display share count to your readers.
Let's have a look at social proof features and customization option given in Social snap plugin:
---
2. Individual & Total Share Counters
Social snap lets you display both total and individual share counts as social proof for your blog post & pages.
---
2. Minimum Share Count Feature –
You can also set a minimum number of social share that has to be complete before social snap displays then a number of Total shares.
Example: If a particular article has only 5 shares and you have set minimum share count 50, then the total share count will be hidden for that blog post.
This feature is especially essential for a website which is just launched or a new growing blog.
Because you don't want to discourage your blog reader from reading your beautiful content just because they get to see a big fat "0 total shares" displaying continuously on your blog.
I personally love this feature and set my minimum share count to 25.
---
(e) Page View Counter
Social snap also allows you to display how many people have seen the page or post.
---
(f) URL Shortening via Bitly
You can connect your Bitly account with social snap and shortens your share links so that you can easily track how are they performing.
---
(g) Recover share count
Sometimes you face too much problem with social share count, mainly when you change the article URL or transfer your Domain from Http to Https or sometimes even fully redirect it to a new domain name.
In all this process, you lose your old share count due to change in the URL.
But Thanks To Social snap Plugin which lets you recover all the share counts in just a few clicks and assign it to the new URL.
Moreover, it also allows you to restore your social share count when you change the permalink or redirect a new blog post to a new one.
Don't miss this Post: Thrive Architect review (How you can skyrocket your content in a few minutes)
---
(h) Social Snap Meta Box – Disable Share Buttons on an Individual Post
Disabling share button on an individual blog post is a really very handy option when you don't want to show the sharing button on a particular blog post.
Here's how to Disable the share button on an individual blog post with Social snap?
If you're using Classic Editor – Social snap gives you a meta box to each of the backends of the post, From there you can easily enable/disable the share button on an individual post.
If you're using Gutenberg Editor – Social snap gives you an option in the Document Settings to enable/disable the share buttons on an individual post.
---
2. Social Snap's Social Follow Widget
Social fan counter Widget is always a great option to increase your social media fan following.
Social snap Plugin lets you add your Social media profile widgets in the sidebar, header or footer of your website.
You also get the option to update your social follower count via API or you can use a minimal one that shows your social media profile without the counts.
If you're using Gutenberg Editor – Social snap gives you an option in the Document Settings to enable/disable the share buttons on an individual post.
---
3. Social Meta Tags – Control How Your Posts Look When Shared on Social Media
Social snap meta option lets you decide or customize how your post will look when someone shares it on social media profile.
You can add a custom image, tag, title & description separately for the social media platform.
This social snap feature is really handy to test the different options and analyze which is performing well on social media in terms of CTC & Engagement.
---
4. Click to Tweet
Brian dean once told in his one of the blog post that his social share increased by 172% after using Click to tweet box into one of the content.
So it always good to leveraging Click to Tweet buttons to boost social share count of your blog post.
As per my experience, Click to tweet box works very well for list post where you can place click to tweet option after every single list item.
The best part of the social snap is- they are offering more than 6 designs for click to tweet box so that you can use your favorite one that matches your brand design.
---
5. Advanced Statistics & Analytics Feature
Social Snap provides you a detailed analytic report of your top performing articles, shares, click to tweet data and much more.
Previously I have used premium plugins like mashshare, monarch, and social warfare, but none of them had this sort of helpful analytics dashboard.
With the help of this detailed report, You can understand what works for you and what not and you always have the opportunity to improve and enhance your social sharing strategy.
---
Social Snap Add-ons – Up Your Social Media Strategy
Social snap offers some amazing add-ons which made this social sharing WordPress plugin an all-in-one digital marketing toolkit for Social Media.
I think you will never get all these helpful social media add-ons with any other standard Social sharing plugin.
Right now they are offering 4 different add-ons and soon they are going to introduce the new one.
Most Popular Post of this week on our blog: 9 Best WordPress Security Plugin to Protect Your Site (2019)
1) Social Auto-Poster
Social auto-poster add-ons basically let you share your new articles automatically on different social media platforms.
Definitely, this feature saves yours lots of time as you may have to share every article manually across each platform.

---
2) Social Login
Social login add-on basically allows your website readers to log in using Facebook, Twitter, Instagram, LinkedIn, andGoogle.
This add-on is really handy for those who run a membership/forum site.
---
3) Boost Old Posts
You will agree with me…
If an Old post don't rank well in google, it hardly gets any traffic or new visitor.
This Social snap add-on automatically picks up your old existing content and share automatically on social media platforms.
I think this is a great way to bring traffic to your old blog post.
---
4) Content Locker
This add-on lets you lock any important portion of your blog post and it unlocks only when your blog readers share or like your social media page.
This is a proven way to increase social share and engagement with your website readers.
I believe these powerful social snap add-ons, not only save your precious time and money but also helps you to drive more traffic, more social media followers and even more readers engagement.
---
Social Snap Pricing
Social snap offers three different pricing options, The plus, the pro and the agency plan which ranges from $39 per year to $299 per year.
Lets have a detailed look at social snap price & different social snap plans:
1) The Plus Plan
The plus plan starts at $39 per year which suits best for those who run a single website.
You'll get all the above-mentioned features except the addons and priority support.
As this is one of the cheapest social snap plans, so I believe it is perfect for newbies who want a more than decent social sharing plugin and have a limited budget.
2) Pro Plan
Social snap's Pro plan is most popular plan among all the three plan which start at $99 per year.
With this plan, you'll get access to use this amazing social share plugin on 3 different websites.
This plan includes all the above-mentioned features including the special add-ons.
I believe the Pro plan is ideal for professional bloggers and small businesses who run multiple blog & websites.
3) Agency Plan
Social snap Agency plan starts at the $299/per year which gives you access to use this plugin on the 15 different websites.
In terms of features, you'll get access to all the premium features that Social Snap has to offer.
As the plan name suggests, the agency plan is best for web developers and big businesses who manage different client website.
In case if you don't like Social snap plugin (which is not going to happen) still you're covered by their money-back guarantee over the next 30 days. Most importantly No questions will be asked at the time of refund
Final Thoughts on Social Snap
As I mentioned at the beginning of this social snap plugin review that It is not just a WordPress social sharing tool it is a complete social media marketing toolkit.
Social snap has really impressive and well designed interface that makes it easy for everyone even beginner to control the settings.
Beyond that, it is packed with tons of impressive feature that you won't probably see in any other plugin.
So do i recommend this plugin?
Yes, 1oo % it is one of the most recommended tools for any blogger because I believe Social Snap is by far one of the best social media plugins for WordPress I have ever used.
I will recommend you to
Try Pro pack as it allows you to use this amazing social share plugin on multiple websites with all the premium features and offers a 30-day money-back guarantee.
If you have any question or something we forgot to cover in this social snap review! Do let me know in the comments.
Social snap review
If you are looking for a lightweight and feature-rich social share plugin for Wordpress that gives you everything from social share buttons to social follow counts, click-to-tweet, content locker and more - Social Snap is what you should go with.