Would you like a website which takes more than 3-4 seconds to load the text and images?
Absolutely not.
Well, you are certainly not alone, you site visitor hate them too.
and to make it worse, Google also hates those sites.
Yes, you read it right, If you want to rank your site on a higher position in Google search engine, then your site needs to load quickly.
So, now you must be wondering "How to make your WordPress website faster?"
Well if you are using a generic shared hosting then simply switch to a higher performance web hosting like Siteground, it will drastically improve your load time.
Apart from Hosting caching Plugin plays a very important role in site load time.
After installing WP Rocket cache plugin on my blog, it speeds up my test site by 57 %.
In this WP Rocket review, Today, I'll be taking an in-depth look at this leading cache plugin and how much — and how easily — it can speed up your site (with real-life data.)
Read also – Siteground Hosting Review: Great Reputation. Find Out Here If They Live Up To It.
What is Caching and How Important Is Your Cache Plugin?
Caching (pronounced "cashing") simply means 'store for future use'
When we talk about in the context of a site – caching means that you store or save some part of your website so, that your site visitors can access it faster.
Didn't get it?
give me a second…
Whenever a person visits your site, a request goes from their particular browser to your site server, and your server fetches all the information that makes that web-page and shows it to your visitor.
Since your site server (where your website data is stored) can be located thousands of miles away from your visitor location, the complete process can take a little time to load the site.
However, with the help of a cache plugin, you can create a cache of the static file of your blog posts & pages and when a site visitor access that post or page it serves it directly from the cache folder.
As a result, it saves a ton of resources in terms of running all PHP queries and accessing your database to regenerate and server the same post and it will make the post load way faster than without the cache.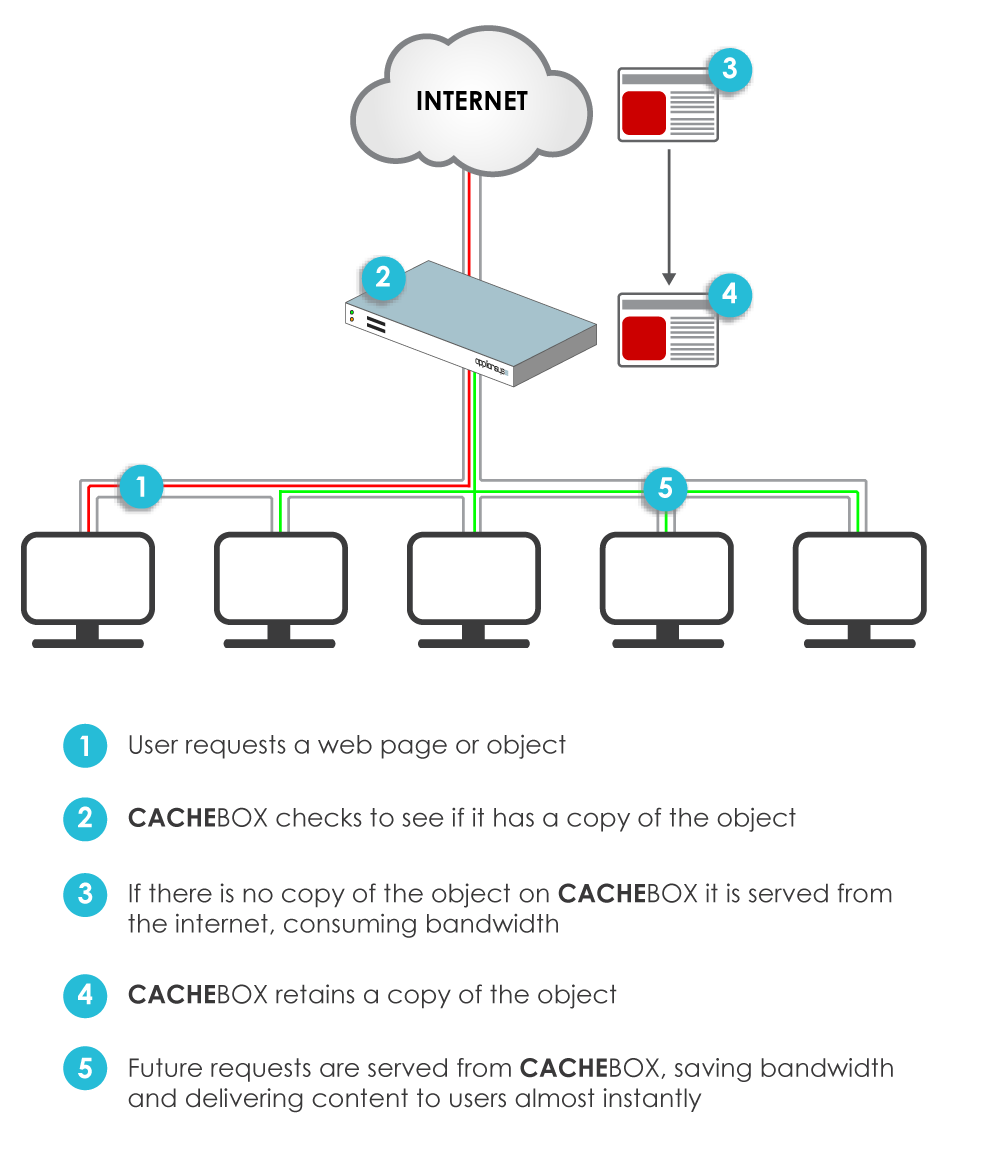 So, I hope you have now understood the importance of a cache plugin. Having a superior quality cache plugin installed on your WordPress blog is very essential.
WP Rocket Review
Now there is various cache plugin available in the market (both paid and free) but choosing the right one is important, as it will save you from the headache of configuration and improves the overall performance of your site.
The most popular and Free Ones includes WP super cache with more than 2 million download and W3 Total cache with more than 1 million download
Whereas, on the other hand, WP Rocket is the paid and leading WordPress Cache plugin.
I personally feel that WP Rocket justify its premium price tag as it is not just a cache plugin only – It is a plugin that offers tons of other performance optimizations that most of the regular caching plugins don't offer.
One of the best things about WP Rocket is that it is extremely quick and super easy to use. You don't require any technical cache knowledge to be able to use this plugin. It has a very clean and simple user interface which makes super easy to configure and optimize your site. (Which you'll see later in this Wp rocket review)
So, without wasting much time, let's take a look at my site load test in this Wp rocket plugin review.
WP Rocket Made My Site 57% Faster
As WP rocket is all about improving your overall site performances, So before i start explaining about WP Rocket's features & interface, let me show you some actual test data.
To test my site load time, I ran a performance test using both GTmetrix and Pingdom.
I was able to reduce page load times from an average load time of 3.1 seconds to about 1.6 seconds.
Isn't it a massive improvement?
Here's GTmetrix data before WP Rocket:
Here's GTmetrix data after WP Rocket:
Pingdom Speed Test
After running performance test with Gtmetrix, i also did the same test with Pingdom and below are the insane result.
Here is the result before using WP rocket:
Here is the result after using WP rocket Plugin:
It was such an amazing feeling to see my site loading time below 1 second. (Dream come true)
According to a research – On an average, by just installing and activating WP Rocket on your blog, you can achieve insane improvement in site loading time and overall user performance (I got an average improvement of 50%+)
10 Reasons – Why WP Rocket is worth using on your Blog!
---
1. Rated as #1 Cache Plugin In Facebook Polls
I am member of the different Facebook Group where i get to connect with lots of professional bloggers in the industry.
I found couple of Facebook poll where people ask about the best cache Plugin.
WP Rocket was Rated #1 in almost all the Polls.
Which shows that i am not the only one who loves this insane plugin.
[optin-monster-shortcode id="vsdwslcebn7trjv9krbu"]
2. It's made for non-technical people
If you have ever used W3 Total cache, you must have faced lots of difficulties in configuring your cache plugin.
Because they have hell lots of technical option which needs proper guidance to setup.
But that is not same in the case of WP Rocket cache plugin.
All thanks to its easy interface which makes configuration super easy.
Yes, there are still few options that need to be configured, but it's not at all confusing.
You can configure the whole plugin in less than 2 minutes without watching any tutorial.
Still, if you want to set up WP Rocket in the best possible manner, must check out our WP Rocket settings tutorial below.
Read also – Best Free WordPress Hosting To Start Your New Blog
3. Starts optimizing as soon as you activate it
After installing and activating WP Rocket plugin on your website, Even if you do nothing, It will automatically apply the best settings and start optimizing your site.
If you want to set it up in the best possible manner, you can do it manually, But their default settings are good enough.
4. WP Rocket offers Extra Features Most Cache Plugins Don't
As far as what i have seen that if you are using most of the other cache plugin, you may need to install extra plugins to get all those features, When WP Rocket has them all built-in, so eventually it will reduce the number of plugin installed on your site.
So if you are someone who is like me, who only want to use only 1 Plugin then you should use WP Rocket Plugin.
Too many plugins will slow your site down, so try to use as less plugin you can use.
5. Very Less Chance Of site Break
Almost all Free Cache plugins are infamous for causing errors or breaking the site.
Don't believe me?
Just go and check out the 1-star reviews of WP super cache, W3 Total Cache or WP super cache.
Most of the complaints you will get regarding errors.
But with the WP Rocket, there is a very less chance of any types of errors.
In case if you got any error, you can contact the support team and get help… unlike other cache plugins where support is virtually non-existent).
6. Excellent documentation
WP Rocket team has made excellent documentation which you can check out for any kind of help.
In case you can't figure out something, you can use there 'Need Help' option which is available for each and every setting.
7. They offer Frequent Updates
The Best thing about WP Rocket is they release new updates about 2-4 times each month…
You can check it out in their changelog yourself.
Updates are very important since most of the FREE Cache Plugin developer doesn't release any updates for a long time. (do you know W3 Total cache wasn't updated for almost 3 years)
Since every update includes Bug fixes and enhancements as well as you can expect new features and plugin to run smoothly.
8. Add-on for Cloudflare and Sucuri
WP Rocket is compatible with all the Content Delivery network services. So if you want to distribute your site files to multiple servers around the world for faster loading time, you'll definitely find WP Rocket more than accommodating.
They have given add-ons for Cloudflare and Sucuri which makes it very easy to enable.
They also have excellent documentation which is very easy to follow and there is no chance of you screwing up.
9. Insane Support ( where Most Cache Plugin Fails)
When it comes to proper support, most of the cache Plugin developers fail to provide support.
You will notice that WP Fastest Cache 1 star reviews are so backed up from people saying "awful support" and WP Super Cache always has tons of unresolved comments.
In one word almost all the cache plugin gives you "Zero Support."
Whereas This is not same in the case of WP Rocket, you can always contact WP Rocket to get any kind of help.
As far as my experience is concerned with WP Rocket support teams, they have always been very responsive for me.
So, I can say this is a very huge benefit for me over any other Cache Plugin.
You can send them a query and you will receive the email within hours. This is a huge benefit over free plugins, where the only support you get is through forums.
10. It offers a 14-day refund to their customers
In case after getting WP Rocket Plugin, you don't find it worth the price, you can always get a refund within 14-days.
You just need to raise a request for refund and they will refund your money under 24 Hours.
WP Rocket Pricing
WP Rocket is an affordable option for most of the bloggers out there, With prices starting at just $49 for one WordPress Blog.
Although there are many Powerful free Cache Plugin available – such as W3 Total Cache & WP Super Cache, still If you're looking for something that's exceptionally easy to configure, as well as also provides extremely helpful premium support then WP Rocket is a strong contender.
They have basically three plan, the first plan is for those people who run only one blog which costs $49 and the other one is for $99 for 3 websites.
The best part is your website won't stop in case you don't renew your license but unfortunately, you won't receive any update & support.
Whereas they do offer the infinite license for people with many websites which costs $199/year for unlimited blogs and 1 year of support and updates.
I personally use their Business Plan which gives me access to use this plugin on my 3 different websites.
No matter what plan you choose, you will get access to their all features and add-ons in WP Rocket.
As well as you can also Upgrade your plan as you grow big or you need to install it on more websites.
How Does The WP Rocket Interface look?
As soon as you activate this plugin, it will automatically implement the best possible settings to start speeding up your blog.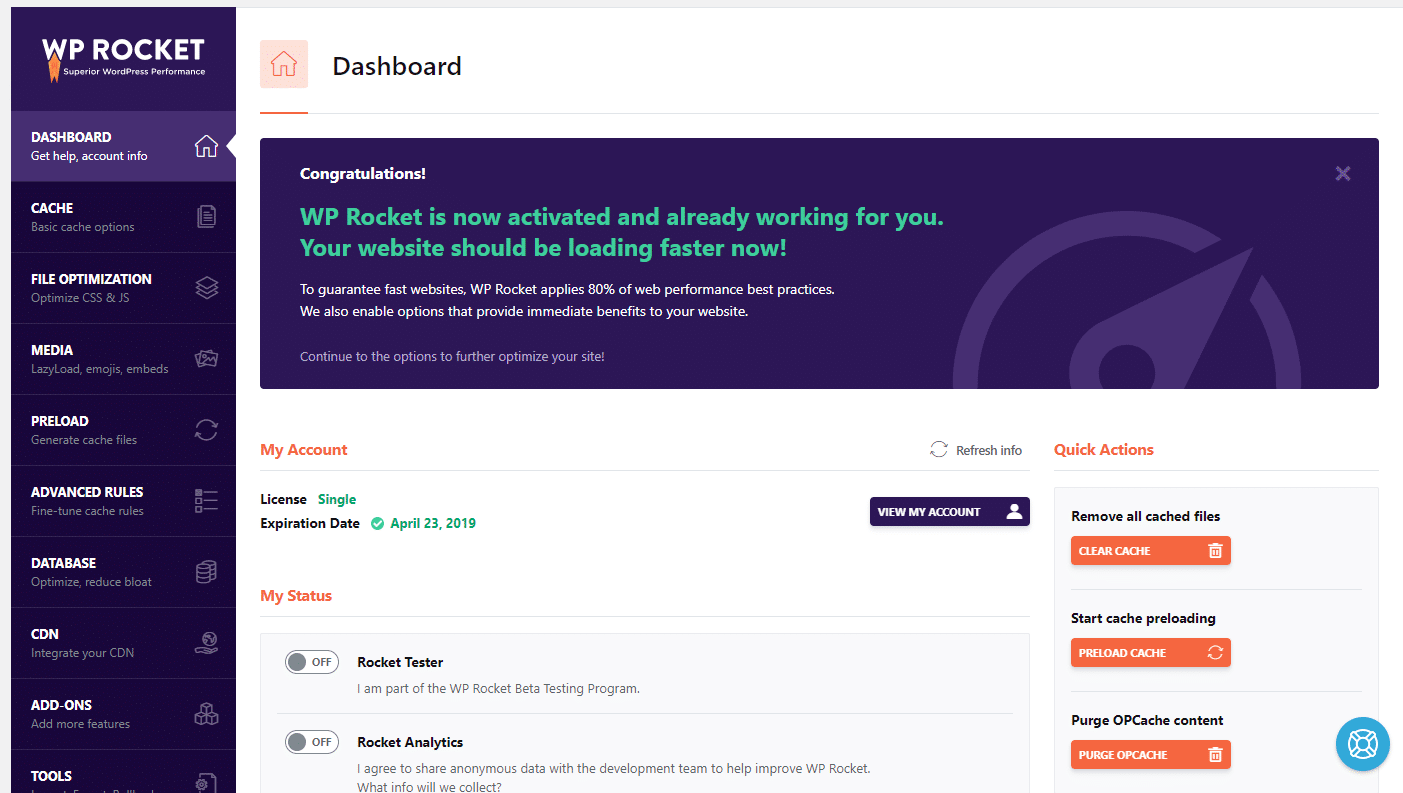 From the main dashboard area, you can quickly clear your website cache or preload your website cache.
To configure more advanced settings, you can click on any of the option given in the sidebar.
Once you click on any of the options, it'll instantly load and shows you the option, unlike W3 total cache which takes pretty good time for each and every time you click on an option category.
So, Let's go through each configuration area and setup WP rocket plugin for best possible performance.
Read also – Top 10 Most Successful Bloggers In India
The Ideal WP Rocket Settings Tutorial
Cache Settings
Firstly let's start with the Cache section, basically, this tab allows you to control how your page caching functions.
There are basically three options you'll find under Cache Tab:
Mobile Cache
User Cache
Cache Lifespan
Check out the below image for my recommended WP rocket settings.
File Optimization Settings
From the File Optimization tab, you can set up your WP Rocket's minification and concatenation functionality.
From the File Optimization you can setup these settings:
Combines Google Fonts
Removes Query strings from static resources
Minifies CSS/JS files
Combines CSS/JS Files
Optimizes CSS Delivery
Check site for errors, if there are any, exclude problematic files in "Advanced Rules"
Below is my Recommended settings for WP Rocket File optimization Tab:
Media settings
From the media tab, you can enable Lazy load for Images and Videos on your WordPress blog as well as disable WordPress emojis and embeds.
Lazyload basically means that when a webpage loads image and videos (which you enable for lazy loading) will not be loaded unless it comes in the viewport.
Which is a pretty good way to improve your website speed.
If you are someone who embeds a lot of Youtube Videos on your site, then you will find a very nice option there which allows you to replace YouTube video iframes with a static preview image and it will definitely improve your website load time.
Preload settings
Normally, without preloading the cache for a page is generated when someone actually visits the site.
That means if someone visits a Page, that page will load from the server. Once the page has been loaded, a cached version of that page will be created by the server as well as by the user's browser.
Now when someone comes again to visit that page, the cached version of that page will be served to the visitor.
Since WP Rocket has set the cache lifespan to 10 hours, so after every 10 hours the cache gets automatically cleared.
Once the Cache got cleared, Now any visitor will not see the cached version (because the cache hasn't been built yet).
That's where Preloading comes in use, Preloading ensures that cached version of a page is available even after it's automatically cleared.
You'll find basically three option under Preload tab:
Enables preload bot
Detects Yoast XML sitemap for preloading
Prefetches DNS requests
Below is my recommended setting for WP rocket Preloading tab:
Advanced Rules Settings
The advance tab gives you detailed control over exactly what gets cached, for whom it gets cached, and when the cache gets cleared.
If you are a casual user, You probably won't ever need to configure this section. But for more advance user, the advance rules section gives you more control over How cache functions for specific URLs, user-agents, cookies etc.
There are five settings in 'Advanced Rules':
Never Cache URLs
Never Cache Cookies
Never Cache User Agent(s)
Always Purge URLs
Cache Query String(s)
I basically don't use this section as i run a simple static blog.
Database Settings
From the Database tab, you can manage your Database and improve your website performance.
It allows you to clean your database and remove all those extraneous details to keep your site loading fast.
There are five settings in 'Advanced Rules':
Post Cleanup
Comments Cleanup
Transients Cleanup
Database Cleanup
Automatic Cleanup
Below is the recommended settings that i use on my blog.
CDN – Integrate With Your CDN
By Using a Content Delivery network you can insanely improve your website load time.
Basically, A CDN caches your website content on multiple servers across all over the world and serve the content based on the nearest server of your reader.
So if your readers is from the US, they'll be served the content from the server closest to their location or if your reader is in India, they'll be served from the server closest to their location.
That's the reason why A CDN makes your site load faster.
WP Rocket Plugin is compatible with most of the Popular CDN service including StackPath, Cloudflare, KeyCDN and others.
If you are using Cloudflare or Sucuri, then you do not need to do anything because they have dedicated add-ons for Cloudflare and Sucuri. You can just enable those options in just one click and set it up.
Heartbeat Settings
Heartbeat basically makes real-time changes in the front-end. Every 15-60 seconds, heartbeat gathers data and updates any changes.
Below is the recommended WP Rocket settings for this tab:
Tools
From the tools tab, you can import or export WP rocket settings to use on multiple websites
WP Rocket Plugin- Frequently Asked Questions
1. What is WP Rocket?
WP Rocket is a cache and performance optimization WordPress Plugin which helps in improving website speed and Overall performance.
2. Is wp rocket free?
No WP Rocket is a premium cache plugin which cost you around $49 for one WordPress website for 1 year of Updates & support.
3. How to update wp rocket?
There are two different ways to update WP Rocket Plugin:- automatic and manual.
You just need to go to the Plugins page in WordPress, and Find the update notification below the WP Rocket and finally, if any update is available you just have to click on Update now option.
4. How to install wp rocket?
The installation process for WP Rocket is super easy. Once you purchase the WP -ROCKET plugin, you can download the Zip file from your WP Rocket account page.
Now you need to go to your WordPress dashboard then Plugin->Add New and click on Upload Plugin.
Finally select the Zip file and click on Install now Button.
5. Is WP Rocket compatible with CloudFlare?
Yes, WP rocket is fully compatible with Cloudflare CDN, they also have a dedicated CloudFlare tab to provide a convenient integration with your CloudFlare account,.
6. Is WP Rocket is compatible with other popular plugins?
Yes, as far as I have seen there was no issue regarding Plugin conflict, Almost all the Popular WordPress Plugins are compatible with WP Rocket
7. How to setup wp rocket?
Setting up WP Rocket is super easy, Just visit the WP Rocket setting section in this blog post to setup WP-Rocket Plugin in the best possible manner.
8. Is wp rocket worth it?
Yes, WP Rocket is worth using as it is a great option to make your WordPress site load faster.
Must Read- 25 Secret I wish I Had Known Before I Started Blogging (2019)
WP Rocket Review 2019: The Final Thoughts
I will not tell you the lie, From past more than two years i was Using W3 Total cache & WP Fastest Cache on my all blog.
And i believe most of you out there are using the Free Cache plugin, because no one easily want to invest in a Premimum Cache Plugin.
But After installing WP Rocket, I was really surprised after seeing the result of loading test of my website.
So, WP Rocket is really a very impressive cache Plugin, as it is not only easy to set up, it also delivers an amazing result.
As I earlier mentioned that Google uses Page speed as a ranking Factor, so if your site loads fast it will definitely improve your ranking, sales, conversion, and website overall performance.
So, i don't think you'll ever regret for the $49 you invest in your website.
I hope you'll find this WP Rocket Review 2019 Helpful, If you have any question regarding WP Rocket Plugin then make sure to ask in the comment section given below.
WP Rocket Review 2019
WP Rocket is an amazing Wordpress Cache Plugin, After installing this Plugin it speeds up my test site by 47%, which is pretty dang awesome..